John Lewis sales boosted by poor weather
LONDON (Reuters) - John Lewis, the employee-owned retailer seen as a barometer of high street trading, said latest weekly sales at its department stores rose 9.3 percent, reflecting helpfully poor weather and weak comparative numbers.
Although sales increased for the second week in a row the outcome was only the fourth week out of 14 that sales have risen as UK shoppers have cut back on spending due to higher fuel, food and mortgage costs.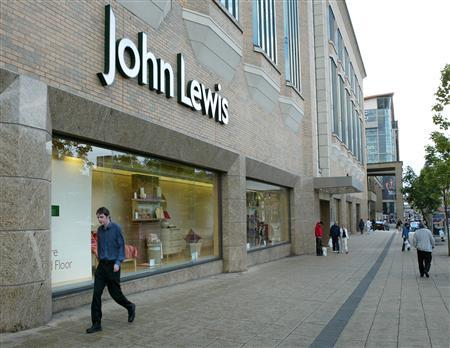 Analysts estimated the increase on a like-for-like basis, which strips out the impact of new space, to be just over 6 percent. John Lewis said sales at its 26 department stores rose to 50 million pounds.
The performance was driven by a 14.7 percent increase in sales in the electrical goods and home technology category and a 13.7 percent increase in fashion sales. However, the home category continued to struggle with sales down 0.5 percent.
"While the comparisons against us were softer than of late, that in no way detracted from the strength of the performance given the extremely challenging trading conditions we are in," said Barry Matheson, head of selling development.
"Many branches commented on the effect of unsettled weather last week, which clearly drove footfall into our shops compared to a year ago," he said.
Many retailers are struggling as consumers curb spending. Big ticket retailers are suffering more than most, with fewer people moving home and house prices falling.
In the week to August 9, sales at John Lewis's chain of 189 Waitrose supermarkets increased 0.8 percent to 72.7 million pounds. Here the poor weather was unhelpful to sales, contrasting with a hot and dry week during 2007. On a like-for-like basis, Waitrose's sales growth was negative despite food price inflation.
Total John Lewis Partnership sales were up 4.0 percent to 120.7 million pounds over the week.
(Reporting by James Davey; Editing by Paul Bolding)
© Thomson Reuters 2023 All rights reserved.