John Lewis sales defy retail gloom
August 26 - John Lewis, Britain's biggest department store group, bucked the general gloom in the retail sector with another rise in weekly sales as it continued to win market share from rivals.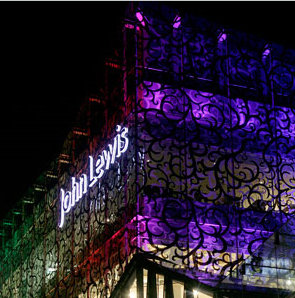 Exterior of John Lewis store in Leicester
The employee-owned business, which has been outperforming competitors for over a year, said on Friday sales at its department stores increased 2.6 percent to 53.4 million pounds ($86.9 million) in the week to August 20.
Sales excluding VAT sales tax increased 1.0 percent.
"Against a background of the country returning to post-unrest normality, media reports of falling disposable incomes, extraordinary turbulence in the financial markets and changeable weather, it was encouraging to see sales perform creditably again," the 147-year-old firm said.
British consumers are grappling with rising prices, subdued wage growth, a lack of credit, job insecurity, a stagnant housing market, government austerity measures and fears of eventual interest rate rises.
Analysts fear riots in several UK cities this month and a sharp decline in the stock market will have a further negative impact on sentiment.
UK retail sales fell in August at the fastest pace in over a year, a CBI survey showed on Thursday, while building society Nationwide said consumer confidence edged down further in July -- more signs that subdued consumption will remain a major drag on the fragile economic recovery.
John Lewis's retail director Andrew Murphy told Reuters on Monday that the firm would outperform a falling retail market this Christmas, benefiting from the strength of its presence in London and investment, particularly in Internet shopping.
John Lewis also owns the Waitrose supermarket chain. Here week to August 20 sales rose 9.7 percent to 95.9 million pounds.
(Reporting by James Davey; editing by Julie Crust)
© Thomson Reuters 2023 All rights reserved.