John Lewis sales growth held back by sun and Games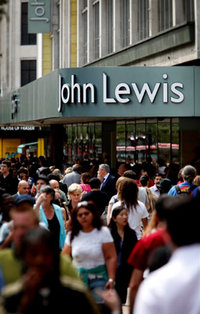 Photo: John Lewis
John Lewis, Britain's biggest department store group, said sales growth eased last week, with demand sapped by a spell of hot weather and the opening of the London 2012 Olympic Games.
The employee-owned firm said on Friday department store sales increased 6.2 percent year on year to 56.6 million pounds in the week to July 28.
In the previous two weeks the retailer had posted rises of 11.2 percent and 17.3 percent respectively.
However, Managing Director Andy Street said an 86 percent week on week uplift in sales of London 2012 merchandise "augurs well for an exciting week ahead."
He said the retailer's first half sales growth of 12.9 percent was "hugely encouraging".
"We substantially outperformed a slow market. While we have added a number of new shops, growth from the established business has been strong."
Street highlighted a trailblazing performance in the half from the johnlewis.com website, which delivered a 43.5 percent rise in sales and said the firm went into the second half "with confidence provided by strong momentum."
Although inflation and unemployment are falling, Britain is in recession and many retailers are hurting as consumers grapple with meagre wage growth and government austerity measures and worry about a weak housing market and fallout from the euro zone debt crisis.
On Monday a survey by the Confederation of British Industry showed British retail sales rose in July more slowly than stores had expected, while on Tuesday a GfK survey said UK consumers' gloomy mood failed to improve in July.
John Lewis, which has a bias to the south east of England, has set the pace in the sector this summer as the deluge of rain has driven footfall from the high street to the covered shopping malls where its stores are often located. Wet and cold weather is also favourable for its key household goods business.
The retailer has also been outperforming the wider market because its generally more affluent customers have been less impacted by Britain's economic downturn, while improvements to product and service and new modern stores have chimed with consumers.
The firm's sales numbers are, however, flattered by the fact it has more shops than last year and by higher prices because of inflation. Also electrical items tend to have relatively low profit margins.
John Lewis also owns upmarket supermarket chain Waitrose. Here week to July 28 sales rose 13.6 percent to 113.7 million pounds.
© Thomson Reuters 2023 All rights reserved.