John Lewis saw surge in pre and post-Xmas spending
LONDON (Reuters) - John Lewis, the employee-owned group seen as a barometer of retail spending, said on Friday sales surged at both its department stores and upmarket grocery chain in the days before and after Christmas.
The group said sales at its 27 department stores rose 1.2 percent on the same period last year to 71.03 million pounds in the week ended December 27, while sales at its Waitrose supermarkets rocketed 40.6 percent to 111.29 million.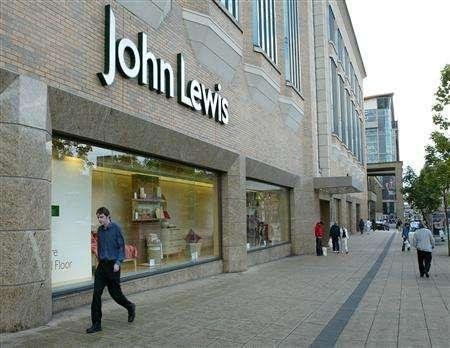 John Lewis did not publish a figure for sales in the week ended December 20, but prior to that the group had reported falling sales at its department stores for 13 straight weeks.
Retailers are struggling as indebted shoppers curb spending amid rising unemployment, sliding house prices and fears of a deep recession.
"The pundits who predicted it would come fast and furious in the final week were on the money," said department stores retail director Patrick Lewis on the jump in pre-Christmas spending.
The chain had previously announced that December 27 -- the first day of its clearance sale -- had produced record takings as shoppers flooded stores looking for bargains.
"The pace has kept up at the same healthy rate for the first two days of this week," Lewis said.
A 25 percent jump in fashion sales offset a 20.5 percent plunge in sales of home-related goods. Sales of electricals and home technology products were down 1.2 percent.
Waitrose had previously reported a big rise in pre-Christmas sales, including its busiest ever trading day on December 23.
Signs of a late surge in Christmas spending and a strong start to clearance sales are supported by data measuring shopper numbers from market researchers Experian.
But analysts fear the flurry of spending will be short lived and will not provide much respite to retailers because they have had to slash prices in order to attract custom.
Marks & Spencer (MKS.L), the clothing, food and homewares retailer, is due to report on its Christmas trading next Wednesday. Fashion group Next (NXT.L) and department stores chain Debenhams (DEB.L) report on Tuesday, with supermarket group J Sainsbury (SBRY.L) on Thursday.
(Reporting by Mark Potter; Editing by Hans Peters)
© Thomson Reuters 2023 All rights reserved.