Juicy Couture head sees holiday growth
NEW YORK, June 8 (Reuters) - Improved sales trends at the Juicy Couture unit of Liz Claiborne Inc (LIZ.N) over the last few weeks are boosting its president's confidence for the full year.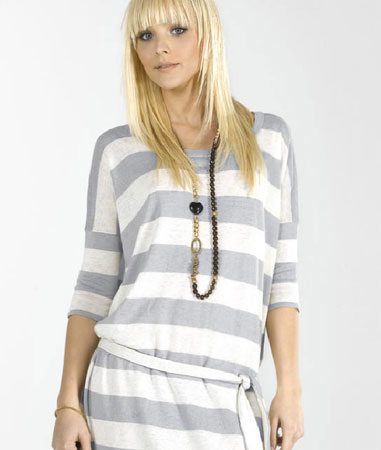 Juicy Couture Spring 2009
Speaking at the Reuters Global Luxury Summit in New York, Juicy Couture President Edgar Huber said he is expecting same-store sales in the year-end holiday season to rise at a high single-digit rate from the year earlier period, when the financial crisis led to retail's toughest season in decades.
"The last couple of weeks were better than the beginning of the year," Huber said on Monday 8 June. "Last weekend was great, probably because the weather was great. People were out, they were shopping and we saw it in our numbers. (We are) getting much more confident about the accuracy of our forecast for this year."
Juicy Couture's net sales were $132 million in the first quarter, down 5.4 percent. Excluding the impact of licensing its fragrance business last year, sales rose 6 percent, helped by the addition of 38 more stores.
At stores open at least a year, quarterly sales fell 22 percent. Yet as comparisons for the rest of the year get easier, sales trends should improve, Huber said.
At the end of the latest quarter, Juicy had 63 full-price stores and 33 outlet stores in the United States.
Huber said the Juicy expects to open 11 to 12 stores this year, with five of those in the United States.
Huber said the brand could ultimately have as many as 250 U.S. stores, noting that there are "tons of locations which we are still very interested in that you can get great deals in," such as Miami and Seattle.
As the U.S. market for commercial real estate has come down, the company -- like many other retailers -- has sought better deals from its landlords. It also has benefited as some outlet mall developers finance the building of new stores.
Huber said good deals on new stores may boost the bottom line by 2 to 3 percentage points this year.
Juicy also is working to expand its international presence in Latin America and China. Over the next 5 to 6 years, Huber said he hopes international sales will make up as much as 45 percent of the brand's total, up from about 16 percent now.
In China, where Huber said the brand's business is "very healthy," he thinks Juicy could have 25 to 30 stores by the end of next year.
In addition to new stores, the brand known for track suits with the word "Juicy" written on the behind, is also boosting its online presence.
Right now, Huber said sales from the company's own website make up about 8 percent of total sales.
"I hope we will go close to 10 percent this year and then from next year on, I really want to develop it to 20 to 25 percent, and make it a really strong distribution channel for us."
(For summit blog: blogs.reuters.com/summits/)
(Reporting by Martinne Geller; editing by Carol Bishopric)
((Reuters Messaging: [email protected];
(646) 223-6023)) Keywords: LUXURY SUMMIT/JUICYCOUTURE
(C) Reuters 2009. All rights reserved. Republication or redistribution ofReuters content, including by caching, framing or similar means, is expresslyprohibited without the prior written consent of Reuters. Reuters and the Reuterssphere logo are registered trademarks and trademarks of the Reuters group ofcompanies around the world.nN08346068
© Thomson Reuters 2022 All rights reserved.