Karel Mills designs for Holland&Holland
Karel Mills, who just launched her own line in the Autumn/Winter 2010 season, is going to be designing a capsule collection for British brand Holland&Holland this Spring. This is the designer's first collaboration. Named Holland&Holland designed by Karel Mills, the 3-piece collection, including a wool coat, drove Karel Mills to go even more upmarket when designing for this historic fashion house, which is owned by Chanel and has been offering hunting gear and wear since the 18th century.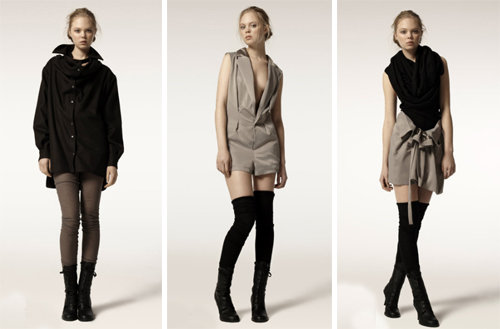 Pieces from Karel Mills' Fall/Winter 2010-11 collection
But above all, the designer wants to develop her brand. In May, Karel is going to open an online boutique after having been selected by BrandAlley's shopping portal 'Le Lab'. "Le Lab is a great platform that allows you to make yourself known to the public. The number of visits on my website has also started to increase", she commented.
After completing her studies at the Duperré School, Karel Mills worked for 4 years as the main assistant of Korean designer Moon Young Hee. She then decided to make her own way by launching her label. The latter is made exclusively for women and offers a complete wardrobe of timeless pieces, including suits, trousers and jackets. "I am constantly recreating classical pieces, whilst trying not to be too eccentric", she explains. She works with dark tones and uses different cuts and shapes, but all in moderation which allows her to appeal to a larger audience.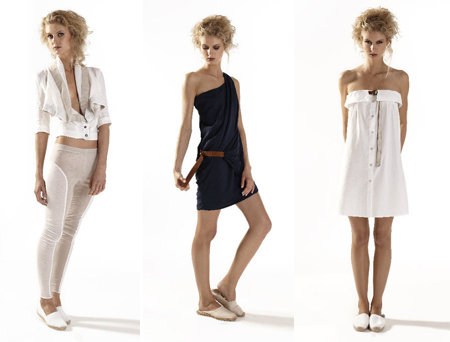 Pieces from Karel Mills' Summer collection
The collection offers around 20 items for the Winter season and double the amount for the Summer. Retail prices begin at 70 euros but can reach up to 600. Available at the Parisian boutique 'JdoubleV', Karel hopes to soon attract more retailers in France and the UK, thus being able to compete side by side with brands such as Valentine Gauthier or Heimstone.
Copyright © 2023 FashionNetwork.com All rights reserved.