Kickers integrates clothes collection next spring
As FashionMag.com already announced last April, Kickers will launch for spring-summer 2011 Kickers Original Jeans Clothes collection targetting 2-16 year olds. The label known for its famous ankle boots now wants to offer an entire universe of offerings.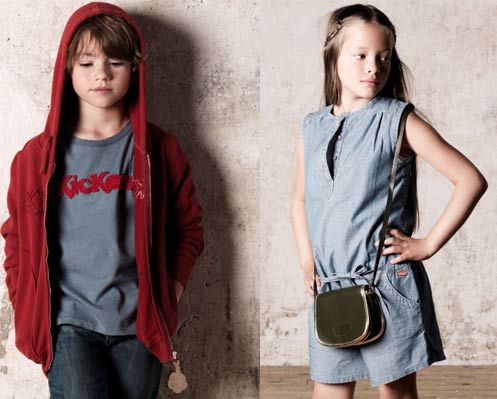 Kickers Original Jeans Clothes
"Kickers has already presented clothes' collections in the past," says Delphine Papiernik, the label's Marketing and Creative Director. That was in the 1980s long before Kickers was bought by the Royer group. With this line of clothing, the brand is digging up its roots which have previously inspired denim creations and advertising archives.
Kickers clothes will come in two parts. Firstly a 100% organic range; "from thread to packaging," says Delphine Papiernik, for 2-8 year olds and secondly one that evokes a vintage spirit for pre-teen 8-16 year olds. In total, over 150 styles and colours will be discovered for spring-summer 2011 while two outlines of the two ranges will soon be discovered in September's pre-collections.
The clothes line with maintain the same "average range" price positioning as that applied to their shoes (from 25-28 Euros for a t-shirt, between 50 and 60 Euros for a pair of jeans) and will be found in Kickers shops, jean shops and children's multibrand stores.
Furthermore, Kickers Original Jeans Clothes collection hopes to ultimately be expanded to adultswear.
Copyright © 2023 FashionNetwork.com All rights reserved.