Kim Kardashian sues Old Navy over look-alike ads
August 11 - Reality TV star Kim Kardashian sued retailer Old Navy on Wednesday to force the clothing store chain to quit using a look-alike model in advertisements the celebrity claims hijack her fame.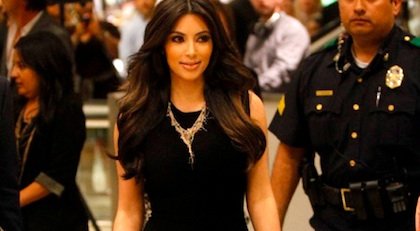 Kim Kardashian - photo: corbis
Attorneys for the star of TV show "Keeping Up with the Kardashians" on the E! cable network said in the lawsuit that Old Navy knew what it was doing when it launched the sales blitz in February using a woman with a striking resemblance to the fashion trendsetter.
"The infringing ads are likely to cause confusion, and have caused actual confusion, in the minds of the consuming public as to an association of Kim Kardashian with defendants' products and services," the lawsuit states.
Kardashian's suit was filed in U.S. District Court for the Central District of California against Delaware-based Gap Inc, the parent company of Old Navy, which also was named. A representative for Gap could not be reached on Wednesday night.
Canadian-born entertainer Melissa Molinaro, who was featured in the Old Navy advertising campaign and has been singled out in some media reports for her resemblance to Kardashian, was not named in the lawsuit.
Advertisements for Old Navy starring Molinaro show her getting her nails done, walking her dog and dancing on a supermarket's checkout counter.
Kardashian, 30, is known for living her life in front of cameras, mixing celebrity glamour and her daily routine with her sisters on the TV show, as well as in magazines and other media. She first gained fame for appearing in a private sex tape that famously went public, but has transcended that notoriety to become a bona fide celebrity.
The lawsuit alleges unfair competition and violation of both the California common law right of publicity and the state's statutory right of publicity.
Kardashian is seeking a permanent injunction barring Gap and Old Navy from using her likeness in advertising, and an unspecified amount of compensatory and punitive damages.
(Reporting by Alex Dobuzinskis: Editing by Bob Tourtellotte)
© Thomson Reuters 2022 All rights reserved.