L Capital Asia eyeing Indian design
It is a story that has the Indian fashion world all abuzz. According to India's financial press, the investment fund L Capital Asia, owned by LVMH and Groupe Arnault, and invigorated by a recent bolstering of its onsite team, is now scoping out two Indian designers, Sabyasachi Mukherjee and Rohit Bal. The Economic Times reports that the company would be led by Evoluzione, a specialist retailer for designer brands from Chennai, which L Capital would partner with to form a joint venture. The overall investment is reported to be Rs 200 crore (29 million euros).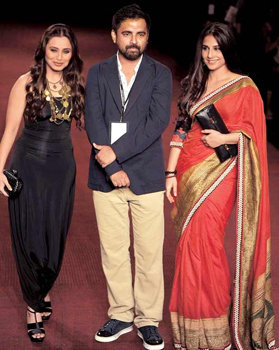 L Capital Asia could assume a significant minority stake in the label of Indian designer Sabyasachi Mukherjee. Photo AFP
The Indian press went so far as to mention a desire to create an Indian LVMH, an idea that L Capital management considers to be "ludicrous." The fund, which specializes in "affordable luxury" brands, a notch below the portfolio of LVMH brands, said that it owns a minority stake in the luxury brands distribution company Genesis. Without denying its interest in the designer labels cited by the Indian press, L Capital says that Genesis "is continually exploring the distribution of international and local brands."
The Indian market is taking shape and international players are looking more seriously at this emerging market where the industry currently takes in less than 150 million euros per year.
Copyright © 2023 FashionNetwork.com All rights reserved.