Lacoste glasses see future with Marchon
Skirmish between glasses' licensees: from 2011 Lacoste will join the license portfolio of American licensor Marchon Eyewear. Up until now bound by a 5-year contract with the Charmant Group, the croc brand announces the signing of a creation, production and distribution agreement with the number three in the industry for sun and optic lenses.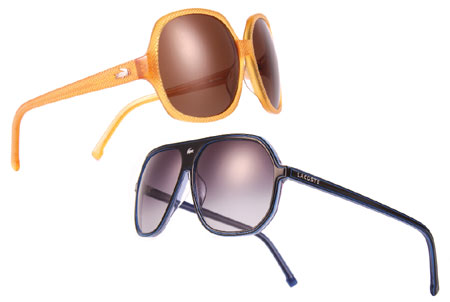 Lacoste sunglasses collection
In two years, U.S.'s Marchon Eyewear will have a nicely rounded brand portfolio in Europe. Due to its proximity or not, the giant has boasted its Made in USA collaborations for many years, with Michael Kors, Nike, Diane von Furstenberg and Disney. The latest was Karl Lagerfeld and Jil Sander. Next in turn is the French born crocodile who is multiplying its openings over in the American continent to join this tribe of well-known brands. For Claudio Gottardi, president of Marchon International, the arrival of Lacoste is "a wonderful asset to our brand portfolio".
On the menu for the next collection, expected in stores in January 2011, is 48 designs of sunglasses and 34 optic glasses. The style, conjured up by the two big players will reflect a feeling of Lacoste's sportswear chic. A style that is from now on in the hands of Felipe Oliveira Baptista since the exit of Christophe Lemaire who goes to Hermès womenswear as Creative Director.
Previously licensed with Charmant, who was praised for its "assistance in building business and strengthening Lacoste's brand presence in the glasses market", Christophe Chenut CEO of the brand declared, Lacoste aims to expand itself in the design and distribution industry" with the help of Marchon's global network.
Original by Emilie-Alice Fabrizi. Translated by Rosie Hart
Copyright © 2022 FashionNetwork.com All rights reserved.