Lacoste to launch 17 L!ve boutiques in 2011
Bright and spacious environment, floor marked with sports field lines, a Pacman arcade machine, mobile hangers coming from the roof, and no clothes folded on shelves. Lacoste's L!ve boutique most certainly does not represent the brand's traditional image.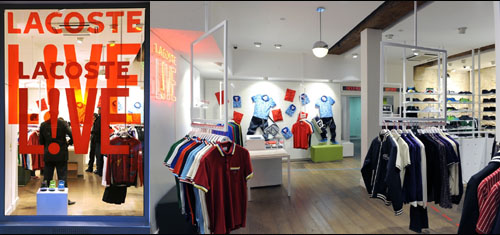 Lacoste's L!ve boutique in the Marais, Paris
To give a boost to the expansion of its colourful line, which mostly appeals to a younger crowd, Lacoste has decided to create a new shopping concept. In 2011, 17 boutiques will emerge in metropolis across the world, such as Berlin, Zurich, Shanghai and Tokyo. L!ve will be able to count on the already existing Lacoste boutiques to help achieve its goal of 60 store openings in total. After New York and London, Paris will be welcoming the collection in its long-established Lacoste store in the Marais. After substituting its Red! line (launched in 2009) for the L!ve one, Lacoste will be presenting the latter's Spring/Summer range in February next year. The new collection, which contains 45 different clothing items for men, tries to distance itself from sportswear by proposing capsule collections. "Now we have many more denim pieces and t-shirts", says Laurent Vinay, marketing and communications director for Lacoste Licensee Devanlay. "The t-shirt allows you to enter in the L!ve universe, created by Fred Verdier's stylistic team, who were also the developers of Red!. Then for the Autumn/Winter 2011 collection, we will introduce the 25-piece women's range".
Copyright © 2023 FashionNetwork.com All rights reserved.