Laura Ashley profit doubles, sees tough year ahead
March 31 - Laura Ashley Holdings Plc's full-year pretax profit almost doubled on online growth, improved sales from retail stores and the franchise business, but the British fashion and homewares retailer said its performance had been declining since February.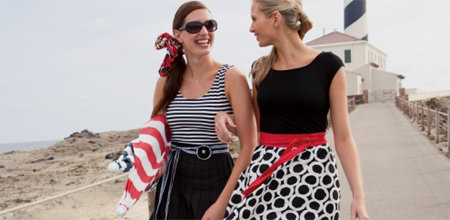 Laura Ashley fashion collection
The furniture-clothing company said on Thursday its like-for-like UK retail sales for the eight weeks to March 26 fell 4.2 percent.
"There has been a decline in performance since the beginning of February, which we attribute to a general weakening in the consumer economy," the company said in a statement.
British consumers look increasingly unwilling to spend as muted earnings growth and higher inflation, fuelled by January's rise in VAT (sales tax) and higher oil and food prices, bite into real incomes.
For the 52 weeks ended Jan. 29, the company's pretax profit, excluding exceptional gains, rose to 19.3 million pounds from 10.1 million pounds last year. Revenue grew 6.2 percent to 285 million pounds.
The company declared a final dividend of 1.0 pence, making a total dividend of 1.5 pence for the year, up 50 percent from last year.
Laura Ashley shares, which have doubled in value over the past year, closed at 25.25 pence on Wednesday on the London Stock Exchange.
(Reporting by Tresa Sherin Morera in Bangalore; Editing by Don Sebastian)
© Thomson Reuters 2023 All rights reserved.