Leonard appoints Maxime Simoens as its creative director
A few weeks after Leonard announced the departure of its former creative director Véronique Leroy, the name of his successor has finally been made official: Maxime Simoens. The rising star of French fashion is also the head of his own eponymous label at the age of 26.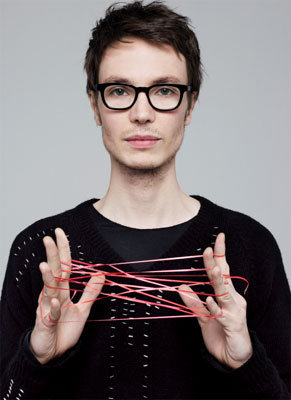 Maxime Simoëns, (c) photo Jean-Baptiste Mondino
This represents a new chapter for the French fashion house, which to this day still remains independent. During her seven years as the head of style, Véronique Leroy played freely with the house's forms and prints, before launching her last "goodbye" collection on Spring/Summer 2012. Now, as Maxime Simoens takes over the creative reins, the designer and member of the French Federation of Couture since 2011 should bring a breath of fresh air to the collections.
In regards to the appointment, Leonard's CEO Daniel Tribouillard commented: "His youth and creative impulse will be a major asset for the development of this family-owned company that has enjoyed a global presence for over 50 years." As for Maxime Simoens, the new creative director is grateful to have this "amazing opportunity to create with the rich heritage and know-how of the Leonard fashion house". His first collection will be ready for the Autumn/Winter 2012-13 season. Leonard's international presence will also provide a good opportunity for the French designer to boost the image of his eponymous label abroad.
Copyright © 2023 FashionNetwork.com All rights reserved.