Li & Fung 2011 net profit beats forecast
HONG KONG - Consumer goods exporter Li & Fung Ltd on Thursday posted a 24 percent rise in net profit for 2011, beating analyst forecasts as a pick-up in U.S. consumer demand boosted sales.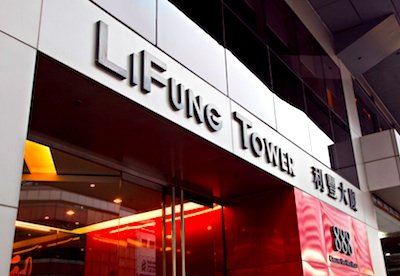 LiFung Tower, Hong Kong Headquarters
The increase comes a year after the company set an ambitious three-year growth plan expanding its sourcing network to rake in higher profits.
The manager of supply chains for retailers including Wal-Mart Stores Inc and Target Corp, reported a profit of $681 million for last year, compared with a consensus forecast of $617 million from 18 analysts polled by Thomson Reuters I/B/E/S and up from a restated 2010 net profit of $548 million.
For July-December, net profit was $445.48 million, according to Reuters' calculation based full-year figures, compared with $271 million for the same period in 2010 and beating a forecast of $381.5 million.
Analysts said Li & Fung was set to benefit from an improving U.S. economic outlook and would rely on acquisitions to achieve a targeted core operating profit of $1.5 billion in 2013.
Li & Fung set the target in a three-year plan announced in last year's earnings statement, a target that analysts said was essentially double that achieved in 2010.
"The group has relied on sustained organic growth over the last 20 years, complementing it with an acquisition strategy that is especially relevant during times of uncertain economic conditions when excellent deals are available at attractive prices," the company said in a filing to the Hong Kong stock exchange.
Li & Fung signed 18 deals in 2011, including 12 acquisitions for its trading network and six for its distribution network. Annualized turnover and core operating profit of the 19 newly acquired companies was approximately US$2 billion and US$211 million respectively for 2011, it said.
Analysts expect to see restocking by U.S. retailers as consumer confidence improves, boosting the top-line growth of Li & Fung this year.
"Considering the fact that end demand has been holding up better than expected and retailers cut order volumes by double digits in the second half of last year, we believe U.S. retailers are likely to order more in 2012," Goldman Sachs wrote in a research note. "We expect better organic growth in L&F's core sourcing business."
ACQUISITION TRAIL
In January, Li & Fung said it had acquired the apparel and toy operations for Greater China of Roly Group for $41 million, LF Asia's first acquisition since the expansion of Li & Fung's distribution business to Asia last year.
The acquisition included the wholesale, retail and sourcing operations for licensed brands including Walt Disney Co, Elle and Sesame Street products. Li & Fung said LF Asia would divest the apparel retailing business acquired from Roly to a subsidiary of privately held Li & Fung (1937) Ltd for $17.8 million.
Shares of Li & Fung closed up 0.42 percent at HK$19.06 on Thursday, ahead of the results. They are up 32.5 percent so far this year compared with a 13.4 percent gain on the Hang Seng Index.

Reporting by Donny Kwok and Rachel Lee, additional reporting by Clare Baldwin; Editing by Chris Lewis and Matt Driskill
© Thomson Reuters 2023 All rights reserved.