Li & Fung H1 profit falls on rising costs and weak U.S., Europe
August 11 - Li & Fung Ltd, the manager of supply chains for retailers including Wal-Mart Stores Inc and Target Corp, posted a 15 percent decline in its first-half net profit, as rising operating costs and flagging U.S. and European demand ate into margins.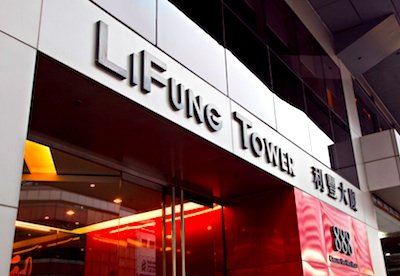 LiFung Tower, Hong Kong Headquarters
It is the first time in at least 14 years the Hong Kong-based consumer goods exporter has registered a year-on-year decline in interim earnings and analysts say the firm faces bigger challenges in the second half.
Weak economies in the United States and Europe, where the firm is heavily exposed, are adding to its margin pressures. Core operating profit margin fell to 3.2 percent from 5.09 percent a year ago.
Li & Fung CEO Bruce Rockowitz told reporters that economic growth in the U.S. and Europe was slower than expected, but he did not believe there would be a recession.
"We don't think it's going into double dip," he said, adding that he expected the company's margins to improve in the second half.
But analysts were not convinced.
"We are very much concerned about the outlook of its businesses in the U.S. and Europe," said William Lo, analyst at Ample Capital. "Apart from cost cutting, I can't see much the company can do for the time being."
GROWING COSTS
Li & Fung, which supplies consumer goods such as garments and toys, said about 58 percent of its revenue came from the U.S. market in the first six months, while Europe's contribution was 22 percent.
Li & Fung posted a net profit of $236 million for January-June, compared with $278 million in the same period of 2010.
The profit is roughly in line with an average forecast of HK$1.77 billion ($227 million), according to seven analysts polled by Thomson Reuters, who expected Li & Fung's first-half profit to be hurt by higher costs of sourcing, staff, raw material, and an increase in operating expenses related to its acquisitions.
Li & Fung sources more than half of its goods from China -- whose currency has risen sharply against the U.S. dollar in the past few years and where labor and raw material costs have also surged.
Excluding one-off gains of $46.5 million from disposal of businesses and exceptional gain of $13.7 million from sales of properties, the firm's interim profits were disappointing as U.S. and European demand sputtered.
"We have started to see the negative impact on its earnings. Second half will be even worse," Conita Hung, head of equity research at Delta Asia Financial. "They may need to slow down their M&A activities in the current economic climate."
Li & Fung said on Thursday it would buy the distribution networks Fishman & Tobin and Crimson Rose. It did not elaborate.
In June, Li & Fung said it acquired five sourcing and trading companies in the United States, Europe and Thailand to beef up its trading and distribution networks.
In May, it said it would focus on internal growth over the next three years, but would look for acquisition opportunities in Japan.
Li & Fung, which missed its 2008-2010 profit target, has set an ambitious growth plan for 2011-2013, aiming for a core operating profit of $1.5 billion by 2013. This compares with $725 million in core operating profit it booked last year against a target of $1 billion.
Some analysts worry about the sustainability of the company's business model as customers increasingly bypass intermediaries and go for direct sourcing to cut costs.
Li & Fung has been taking some steps to reduce costs and bolster growth.
Last month, it said it would lay off 40 staff in Hong Kong to meet the changing needs of its European business.
The exporter said in June that it planned to expand its sourcing business in fast-growing emerging markets, such as China, South America and Eastern Europe.
It was also banking on higher-margin businesses such as beauty products for growth, and aimed for a larger presence in markets such as Turkey, India and China.
Shares of Li & Fung ended unchanged on Thursday prior to the results, outperforming a 0.95 percent fall by the benchmark Hang Seng Index.HSI.
They are down more than 46 percent so far this year, against the broader market's 14.9 percent decline.
(Additional reporting by Alison Leung)
© Thomson Reuters 2023 All rights reserved.