Liberty year sales rise 9 percent
LONDON (Reuters) - Liberty (LIBE.L), owner of the London department store, fabric company and luxury goods brand, reported a 9 percent rise in sales in 2008, but higher interest costs caused losses to widen slightly.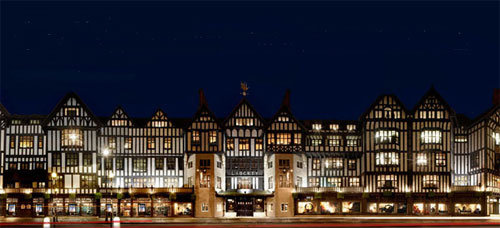 Liberty boutique on Regent Street, London
The company, which is owned by MWB Group (MWB.L), said on Friday that sales at its flagship store in London's West End shopping district virtually matched the 2007's record of 32 million pounds.
"We regard this as a very creditable performance in the current adverse economic and retailing climate," it said in a statement.
The group's sales rose to 50.2 million pounds against 45.8 million pounds a year earlier, but its pretax loss widened to 7.0 million pounds from 6.4 million pounds, reflecting higher interest costs.
Liberty said it had large one-off costs in the year from the launch of an independent Liberty of London store and a new internet sales platform.
The firm said it appreciated that economic conditions were challenging, but it was investing with the aim of recapturing its position as London's destination for all that was avant-garde in the world of fashion.
(Reporting by Paul Sandle; Editing by Victoria Bryan)
© Thomson Reuters 2022 All rights reserved.