Liu Jo recruits Kate Moss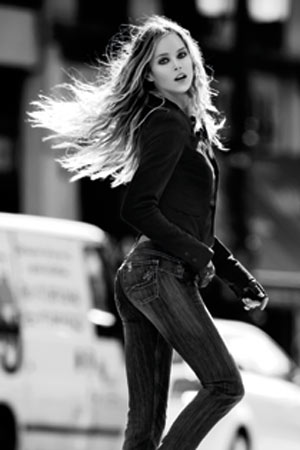 Image from Bottom-Up's advertising campaign
Liu Jo boosts its publicity. The Italian brand has called upon Kate Moss to be on its Spring/Summer and Autumn/Winter collections in 2011. The supermodel will be photographed by Mario Sorrenti, who had already worked with her in the past in an ad for Calvin Klein's perfume Obsession.
"She is the most elegant model of our times", said Christiano Sturnioli, the brand's marketing and communications director. Liu Jo Jeans has also just revealed its new TV ad campaign for Bottom-Up, a line of jeans that redefines female curves and gives shape to the bottom. The 30 second ad is a mixture of irony and elegance: men and women are seen wearing surgical neck collars because they keep turning their heads abruptly every time a model walks past wearing the jeans.
According to the manager, the ad will be on TV in February next year. "We have created the commercial in order to launch the collection in 6 European countries: France, Germany, Belgium, Poland, the Netherlands and Spain."
Copyright © 2022 FashionNetwork.com All rights reserved.