Liz Claiborne considers full-price stores
By Martinne Geller
NEW YORK (Reuters) - Liz Claiborne Inc (LIZ.N) is considering opening its own full-priced stores to eventually sell its namesake clothing brand, which is launching a revamped line next month, its chief executive said.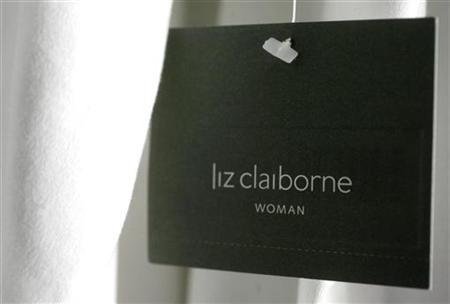 The much-anticipated spring line by Liz Claiborne New York is its first from celebrity designer Isaac Mizrahi, which the fashion company hired away from Target Corp (TGT.N) a year ago to breathe new life into its 33-year-old brand.
Chief Executive William McComb said in an interview on Friday that selling Liz Claiborne clothes in its own stores could be an alternative strategy if it becomes unhappy with the brand's treatment at department stores. The line will begin hitting racks at Macy's Inc (M.N), Bon-Ton Stores Inc (BONT.O), Dillard's Inc (DDS.N) and others in early February.
"If it goes well with the partners I don't think we'll have to go that route," McComb said, referring to issues of store space and positioning, rather than customer response. "If we need to go the direction of some full-priced stores, I think the brand could absolutely handle it."
Liz Claiborne operates full-priced stores under its Juicy Couture, Mexx, Lucky Brand and Kate Spade brands. Its Liz Claiborne brand has 98 outlet stores, which mostly sell past seasons' fashions at a discount.
McComb said, "We certainly have had mall developers reach out and say they would be willing to help us test our way to a place back in the middle of the mall."
Specialty stores could also be an addition to the Liz Claiborne presence in department stores, McComb said. The timeline for studying such a move is mid-2010 or early 2011.
Prices for the new line -- which includes casual sportswear, dresses and bags -- range from $25 for T-shirts and knit tops to as much as $200 for jackets and coats.
Mizrahi's name will not be on any labels, but the well-known designer, who has been in several movies and television shows, will be featured in the marketing, said Dave McTague, executive vice president of the company's partnered brands unit, which also includes Monet, Kensie and Mac & Jac.
TOUGH TIME TO LAUNCH
The relaunch of Liz Claiborne, which shaped modern women's work uniform of sportswear separates, comes as clothing makers and retailers are reeling from the 2008 holiday season, which was the toughest in about four decades as U.S. consumers tightened spending in the recession.
Analysts who got a sneak peek at the line applauded its bright colors and bold patterns. They said it was more youthful and fashionable than before, but cautioned that the retail environment is so difficult that the benefit to the company may not be felt for several quarters.
"It's not the environment we would have picked, but then again, I'm really glad we're not doing more of the same and waiting for a better environment," said McComb.
Earlier this month, the New York-based company warned that it would likely report a fourth-quarter loss instead of an anticipated profit, as the discounts needed to lure shoppers sapped margins. It also amended and extended its credit facility, calming investor fears over its ability to continue funding its business and meeting its debt covenants.
The company plans to report results for the fourth quarter and full-year 2008 in early March. In 2007, the Liz Claiborne brand made up about 19 percent of total sales of $4.58 billion.
Michelle Chang, a Morningstar equities analyst, said she expects sales for the company's wholesale business to fall this year, but to a lesser extent than last year, due in part to the new line. For 2008, she expects a decline of roughly 25 percent, with the drop easing to a low-teen range for 2009.
"I think it will help a little bit, but the macro environment is going to be the dominant factor here," Chang said. She said 2009 sales should improve industry-wide as stores' inventory levels get more in line with reduced demand, lessening the need for deep promotions.
Marie Driscoll, an equity analyst for Standard & Poor's, said the new line could spur women to scour department stores' mid-price racks for fashion instead of just bargains, but warned that the brand's real value will come later.
"If it's going to move the needle, it's not going to move the needle this year," she said. "This is going to be a tough year for everyone."
(Reporting by Martinne Geller, editing by Leslie Gevirtz, Gary Hill)
© Thomson Reuters 2023 All rights reserved.