Liz Claiborne, Narciso Rodriguez part ways
NEW YORK (Reuters) - Apparel and accessories maker Liz Claiborne Inc and designer Narciso Rodriguez said on Wednesday, October 8th the two have ended their business relationship, 17 months after announcing the partnership.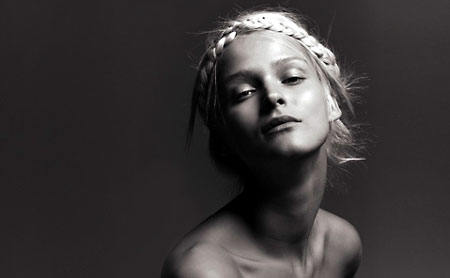 Narciso Rodriguez campaign
Narciso Rodriguez will regain full ownership of the trademarks and business bearing his name, while Liz Claiborne will provide some transition services to Rodriguez.
Liz Claiborne Chief Executive William McComb said the company had initially seen opportunities to work together with Rodriguez across different product lines, but that "differences emerged as to how best to achieve this organic growth."
He said the decision to end their agreement was mutual. The company declined to provide additional details or make Rodriguez available for an interview.
But an article in Women's Wear Daily quoted McComb as saying there had been "dramatic changes in the luxury marketplace versus what we expected when we formed the alliance."
In May 2007, Liz acquired a 50 percent ownership stake in the Narciso Rodriguez name and trademarks, and said it would form a new company to develop the brand.
The partnership marked Liz's entry into the luxury designer segment, and Liz, whose brands include Juicy Couture and Kate Spade, was hoping to license the Narciso Rodriguez brand and extend it into accessories.
The divorce does not come as a huge surprise, said Pam Danziger, president of Unity Marketing.
Claiborne has shifted its emphasis to names like Mexx and Lucky Brand, which have retail stores, and it is also not uncommon for large fashion companies to prune their portfolios, she said.
"If you look at PPR, Richemont and LVMH -- all of those big luxury conglomerates -- an important part of what they do is try to identify up-and-coming designers that can be folded into their umbrella," Danziger said of the owners of Gucci, Cartier and Louis Vuitton.
"And in many cases they do not turn out to be as financially lucrative as they had hoped. So they're not only buying luxury brands, they're also selling them off too."
Liz said it is still determining the impact of any charges associated with the transaction. The operating results of the Narciso Rodriguez brand and the effect of ending the agreement will appear as discontinued operations when the company reports its financial results.
Claiborne shares fell 6 cents to $13.86 on the New York Stock Exchange.
(Reporting by Martinne Geller and Nicole Maestri; Editing by Dave Zimmerman, Richard Chang)
© Thomson Reuters 2023 All rights reserved.