Lolë opens its first shop-studio in Europe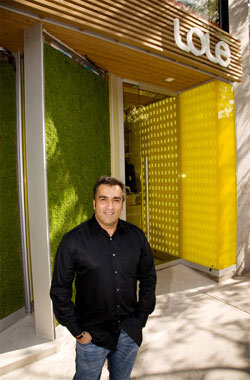 Bernard Mariette in front of the Montreal store.
Lolë just opened its first boutique-studio in Europe, Zurich. The Swiss distributor of the Canadian brand manages the shop (showroom included) and workshop's 180 square metre area. This is the second launch in the world after Montreal, which opened in mid September. Consistent with its concept to always live in the moment amid nature, Lolë wants to encourage women to move around. Shops are so versatile and above all are sociable places to meet up.
Early November the third store in New York, Tribeca will open, and this time as a branch. A fourth is already planned again for Montreal, the city of the parent company, Coalision (Orage, Lolë ...). In North America, Bernard Mariette, CEO of Coalision foresees thirty locations installed within three years. 2011 will also see development in Europe accelerated. Openings are planned for France (Paris, Lille, Strasbourg, gas stations, Montpellier ....), Germany (Munich, Berlin ..) and the Nordic countries (Copenhagen and Oslo specifically). E-commerce should then follow quickly on. Meanwhile, the brand has found its place among some multibrand retailers. In France, the brand will not be fully distributed until spring-summer 2011. The sportswear will be available from forty stores for its first season in France.
Original by Jean-Paul Leroy. Translated by Rosie Hart
Copyright © 2023 FashionNetwork.com All rights reserved.