Louis Vuitton opens new french factory amid tight rein on growth
27 June 2011 - (WGSN) - Louis Vuitton opened a new factory in France on Friday to expand the luxury label's production capacity by 70 people. The site is part of a strategy to grow its operations, starting with the factory floor.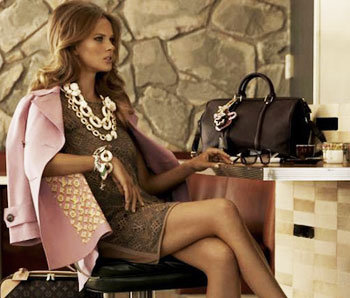 Fashion Jewelry collection Louis Vuitton
"Our paradox is how to grow without diluting our image," chief executive Yves Carcelle told the Wall Street Journal at the new factory in Marsaz.
Vuitton owns 17 factories that manufacture bags and accessories. The new facility in Marsaz is its 12th in France; in addition, there are three factories in Spain and two in California. The company only manufactures components such as zippers in Asia. Vuitton spends "tens of millions of euros" annually on industrial investments, according to Carcelle.
After sales rose 22% last year, Carcelle told the newspaper he is intentionally tapering growth this year, even in China. Carcelle feels Vuitton has largely blanketed China with stores in its 20 years in the country.
Vuitton operates 456 stores around the globe and has chosen to be more selective in its new openings. This year, Vuitton will add only about five locations to its network, with new megastores in cities such as Singapore. Carcelle is now putting the emphasis on enlarging existing locations, such as Milan.
Carcelle has implemented a lean production process, inspired by Japanese car makers. By reorganising teams of about 10 workers in U-shaped clusters, Vuitton was able to free up 10% more floor space in its factories. "We were able to hire 300 new people without adding a factory," Carcelle was quoted as saying.
Each step of production was analysed for potential gains. At Vuitton's shoe factory in Italy, robots now fetch the foot moulds around which a shoe is made instead of workers walking back and forth from their workstation to the shelves. The use of robots resulted in a "considerable" time gain, Carcelle said.
In addition, Vuitton developed a computer programme to help leather cutters identify the flaws in the skins they receive. The programme determines where to cut out the dozens of different pieces of a bag, a process that has drastically reduced the amount of wasted leather.
In other news, Vuitton is considering launching a perfume, according to the Wall Street Journal report, which would be sold only in its own stores, rather than department stores or perfumeries.
Louis Vuitton has annual sales of $7.09bn and employs about 3,500 leather goods workers in France.
Source: WGSN