LVMH denies attempts to destabilize Hermes
LVMH, the world's biggest luxury group, said it wished to remain a long-term shareholder of Hermes and rejected allegations it was trying to destabilize its smaller luxury rival.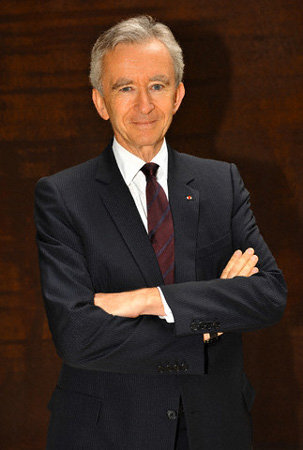 VMH chairman and ceo Bernard Arnault in Paris (Photo: Corbis)
LVMH was replying to comments made by Hermes Chairman Bernard Puech who called on LVMH to halve its 20 percent Hermes stake and said Hermes had been the target of "incessant attacks" in an interview published in Le Figaro on Monday.
LVMH, which surreptitiously built up a stake in Hermes starting in 2008 and revealed its move last autumn, has long been courting Hermes but has repeatedly denied it would like to add the brand to its champagne-to-leather goods empire.
As Hermes was holding its annual shareholders' meeting in Paris, LVMH said it was keen to forge a dialogue with Hermes and it was not in the group's interest to destabilize it.
"It would be folly on our part to hamper the success of this great brand," LVMH vice president Pierre Gode said in a statement.
At Hermes AGM, Gode added: "LVMH has no intention of aggressively taking control of Hermes ... I make the wish that these artificial, sterile and groundless quarrels stop."
To defend itself from what it considered a hostile move by LVMH, Hermes's controlling family is preparing itself to set up a holding company controlling more than 50 percent of the maker of silk scarves, watches and high-end handbags.
"What bothers us is the way they did it," Bernard Puech told Le Figaro, referring to LVMH's stake building. "So we ask them to sell half of their stake to re-establish our stock market float."
After LVMH amassed Hermes shares roughly 7 percent of Hermes shares remain in free float, according to the company's 2010 annual report.
Hermes shares closed barely changed on Monday at 179 euros.
"In sports, this is called trash talk," said Pierre-Alexis Dumont, equity portfolio manager at Paris-based OFI Asset Management. "We shouldn't be reading too much into it. Hermes is grinding its weapons before the AGM."
Puech dismissed efforts by LVMH Chief Executive Bernard Arnault to strike a conciliatory tone regarding the Hermes approach.
"After six months, we are the target of incessant attacks of the kind we've never seen in 174 years, even though LVMH says its approach to us is friendly," he said. "With friends like these, who needs enemies?"
At its AGM, Hermes Chief Executive Patrick Thomas said he expected the group's sales growth this year to be good but "significantly below" that of 2010, which was an exceptional year.
By Christian Plumb and Pascale Denis
(Additional reporting by Astrid Wendlandt and Blaise Robinson; Editing by Will Waterman)
© Thomson Reuters 2023 All rights reserved.