LVMH's Bulgari buy to spur small luxury deals
PARIS, March 11 (Reuters) - Jeweller Tiffany (TIF.N) has been singled out as a target for PPR (PRTP.PA) or Richemont (CFR.VX) after LVMH's (LVMH.PA) take-out of Bulgari (BULG.MI), but a deal will take time and smaller bids are more likely.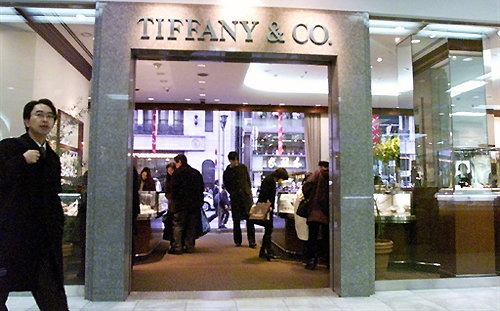 Photo : AFP
Of the remaining listed luxury firms Burberry (BRBY.L), Tiffany and Tod's (TOD.MI), analysts and bankers say the U.S. jeweller, which has a market capitalisation of $8 billion, is most likely to be snapped up first, although not immediately.
Attention in the luxury sector will focus instead on transactions worth less than 500 million euros. These are set to multiply as growth prospects have rarely been so attractive, driven by the fast-rising purchasing power of emerging markets.
Goldman Sachs estimates annual global luxury goods sales will rise by 16 percent between 2011 and 2014 and could grow at 2.2 times GDP to become a trillion dollar industry by 2025.
Despite this, a mega deal such as the 3.7 billion euro ($5.1 billion) acquisition of Bulgari by LVMH, the world's biggest luxury group, may not be repeated any time soon.
"History shows that you never have two big deals in a row. The following ones will tend to be much smaller," one Milan-based senior banker told Reuters.
Another financial adviser, speaking on condition of anonymity, said PPR looked seriously at Tiffany in the past and could consider buying it again, having cut some of its debt through its recent disposal of Conforama for $1.6 billion.
"PPR have closely considered Tiffany but they could not finance it with all the debt they had, and now they can start looking at it again," the adviser said.
Richemont, owner of jewellers Cartier and Van Cleef & Arpels, is sitting on more than 2.2 billion euros of cash, making it an obvious buyer of Tiffany since it could combine metal and jewel purchasing and expand Tiffany's retail network.
But a senior manager at Richemont, who declined to be named, said the move would mark a strategy change for the Swiss group as Tiffany was more down-market than its other brands. However, it would give it exposure to the U.S. economic recovery.
"Tiffany has been in play for a long time, it has good growth potential in China but they move a lot of silver more than anything," the manager said.
Richemont and PPR had looked at Bulgari, but failed to match LVMH's offer which valued Bulgari at 30 times current year earnings, above the luxury sector's average of 21, people close to the deal said this week.
The strange thing about LVMH's Bulgari acquisition, advisers say, is that the French group did not need the Italian brand to boost earnings. It bought it simply because it was available and nice to have and it had the means to pay a high price for it.
"These companies don't have to make acquisitions but...the large conglomerates want these assets like a consumer covets a new handbag - the arms race continues," Shawn Kravetz, president of Boston-based investment fund Esplanade Capital, said.
SMALL LUXURIES
Private equity firms, Middle Eastern and Asian retailers are likely to be more active consolidators in the short term than big luxury groups, financial advisers say.
W.S. Chan, Vice-President of Chinese retailer YGM (0375.HK) which owns the licence for Aquascutum in Asia and the French fashion brand Guy Laroche, told Reuters last week his group was still looking for acquisitions.
Hong-Kong based Trinity O891.HK is also hunting for European brands after having snatched Italian fashion house Cerruti for 53 million euros in December last year.
LVMH's private equity arm, L Capital, which recently acquired control of French fashion brands Maje, Sandro and Claudie Pierlot, is in talks to buy a stake in India's biggest jewellery retailer Gitanjali (GTGM.BO) for an estimated $100-125 million.
And Gitanjali itself it looking to buy jewellers in Italy. .
Private equity firm TowerBrook, which bought Jimmy Choo for 180 million pounds ($292 million) four years ago, now plans to cash in on growth in the sector and hopes the shoemaker will fetch some 450 million pounds.
Meanwhile, Jaeger owner Harold Tillman is hoping he can get at least 100 million pounds for the British brand, sources close to him have said.
Other expected sales include Smalto and French jeweller Poiray after their owner Alain Dumenil sold fashion brand Louis Feraud to Dubai retailer Paris Group.
CHECK IT OUT
Burberry, the British luxury group famed for its camel, red and black check pattern, is also regularly touted as a bid target, but it is unlikely to attract private equity as the business has already been cleaned-up and its style revamped.
LVMH would not be a natural fit as it is sufficiently big in leather goods and apparel, but it could interest Richemont which is keen to boost its presence in the leather goods market.
But Burberry, which trades at 21.1 times forecast earnings for the year ending March 2012, compared with 17 times for Switzerland's Richemont for the same period and 16 times for LVMH for calendar 2012, would not be cheap.
Unlike Burberry, Tod's is family-controlled and financially strong which would make a takeover much more difficult. But over time, Tod's could decide to join with LVMH with which it has been cultivating ties.
The next big jewel among privately-held companies is Armani, which is in the hands of founder Giorgio Armani and his family.
Armani, who is 76, has not made public his succession plan. His business is profitable, tightly run and well diversified with several lines of ready-to-wear, house wares, perfumes and leather goods.
While it would fit well with LVMH, PPR or Richemont, Armani is not looking for a buyer for now, advisers say. ($1=.7244 Euro) ($1=.6173 Pound) (Additional reporting by Antonella Ciancio in Milan, Nina Sovich in Paris, Mark Potter in London and Phil Wahba and Jessica Hall in New York; Editing by Alexander Smith)
© Thomson Reuters 2022 All rights reserved.