M&S brings comfy knickers and curry back to Paris
PARIS - The French may scoff at British cooking and fashion, but retailer Marks & Spencer (MKS.L) reckons France is yearning for its ready-made chicken tikka masala, gourmet chutney and sensible knickers.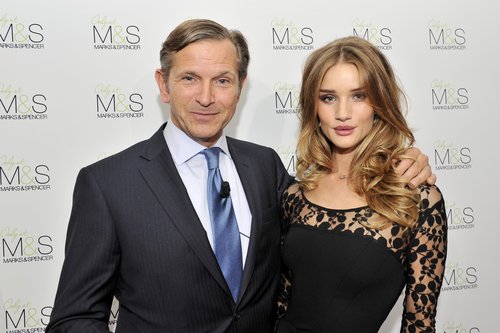 Marc Bolland, CEO of M&S, and super model, Rosie Huntington at the inauguration cocktail of the new M&S flagship on Champs-Elysées in Paris
The veteran British store opened a flagship store on Paris's Champs-Elysees Thursday after a decade's absence from French soil, bringing the taste and feel of the British Isles to a city that sees itself as a world capital of food and fashion.
Britain's biggest clothing retailer, known too for its home goods and upmarket food, sparked howls of protest in 2001 when it shut up shop in France to stem losses in mainland Western Europe and focus on its home turf, leaving British expatriates and anglophile Parisians bereft.
The return to France is part of a new international strategy to open stores and websites in a handful of countries, rather than the scattergun approach of the past. Goods at the Paris store will be priced around 10 percent higher than in Britain, but M&S said they would be competitive for the French market.
"I am impatiently waiting for the reopening," said Karine, a French TV producer and blogger who preferred not to give her last name. "For me, it's a little like Proust and his madeleine."
While underwear is at the top of the list for many a female M&S shopper -- "They're the only ones to do super comfy underwear," said Karine -- food is also a major draw.
Karine's list of remembered favorite foods from the 127-year-old retailer included "crumpets, scones, pies, chutney, Indian food" -- foodstuffs rarely seen elsewhere in France.
Clothes, lingerie and food are the things M&S Chief Executive Marc Bolland said French shoppers were after as they lobbied the retailer to open once more in Paris.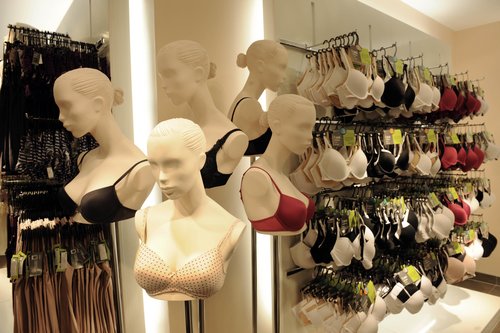 Lingerie at Marks & Spencer in Paris store
"We don't only want expats," Bolland told reporters during a store walkthrough Wednesday evening. "It's the French who are asking us for scones."
Veronique Turban, another Parisian shopper who spoke to Reuters before the M&S opening, said she had missed the retailer's smoked salmon sandwiches, and expressly cited its trousers made in three different lengths -- long, regular and short -- a true example of British practicality.
"My husband has really short legs, so it's ideal," she said.
The opening came as the Financial Times reported that the head of M&S's clothing and homewares business was in talks to take a senior job at online fashion retailer ASOS (ASOS.L). M&S declined to comment.
MENSWEAR, FOOD ITEMS LACKING
M&S posted a 10 percent drop in first-half earnings this month as Britons curbed their spending amid a gloomy economic environment.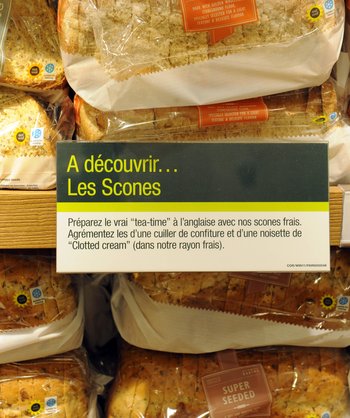 British fresh scones may lure the French into buying English food
With British retail in a rut, analysts say expansion abroad makes sense and believe a flagship M&S store on the Champs-Elysees will be a big draw.
Paris newspapers have been abuzz for months over the store's opening on the tree-lined avenue, a grandiose commercial hub that crawls with tourists all year round and where U.S. clothing chain Abercrombie & Fitch (ANF.N) recently opened a store.
However, some shoppers may be disappointed by the small, 1,400 square meter Paris store, which devotes most its space to fashion and does not run to men's clothing.
Washable cashmere sweaters, classic short black dresses and trendy accessories like faux-fur hats and purses fill two levels, leaving less space for lingerie and food.
The food area, crammed into only about 100 square meters, includes such British stalwarts as multi-flavored crisps, biscuits, white bread, Scotch Eggs and bacon. Sandwiches are prepared and packaged each morning in Britain before being shipped over the Channel, Bolland said.
While salad cream and Christmas puddings are also on offer -- as is M&S's chicken tikka masala portions for 4.99 euros a piece -- the food section size and selection appears to be geared more to busy office workers on the go than true foodies hankering for British cuisine.
A bigger selection in food and clothing will be available after M&S opens three more stores in Paris in larger formats, said Bolland. A store pegged to open in early 2013 near the Eiffel Tower, for example, will be about 4,500 square meters.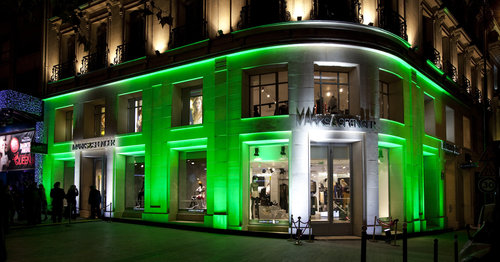 Façade of M&S on Champs-Elysées
M&S is also looking for Paris venues for its Simply Food chain.
A French Marks & Spencer website is already up and running and has received 200,000 visits in five weeks, said Bolland, although he did not reveal how many purchases that included.
"It's a little difficult to introduce food to France, but we're making an effort," said Bolland.
By Alexandria Sage and Vicky Buffery
(Additional reporting by James Davey and Mark Potter; Editing by Catherine Bremer and Will Waterman)
Consult the entire picture gallery of M&S here:
http://bit.ly/msparisgallery
© Thomson Reuters 2023 All rights reserved.