M&S misses forecasts after running out of knitwear
Marks & Spencer Plc boss Marc Bolland vowed to correct the buying mistakes that caused the bellwether British retailer to run out of best-selling women's knitwear and footwear lines, and miss fourth-quarter sales forecasts.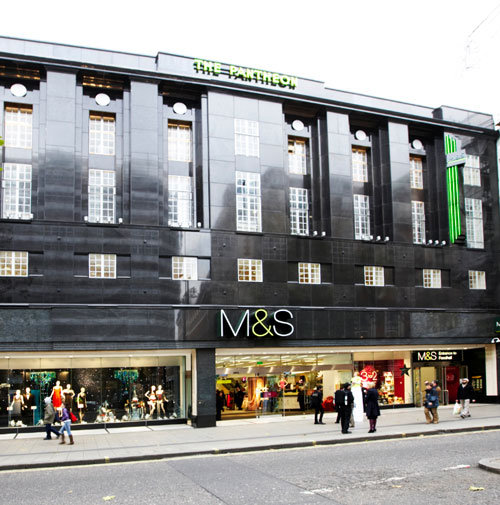 Mark's & Spencer London Pantheon / Photo: Marks & Spencer
Bolland said on Tuesday the firm's buyers had learnt their lesson and would buy stock in greater quantities when positive trends emerge.
Shares in the UK's biggest clothing retailer, which also sells upmarket food lines, fell nearly 3 percent after it said general merchandise sales - clothing, footwear and homewares - at stores open more than a year fell 2.8 percent in the 13 weeks to March 31.
That compared with analysts' consensus forecast for a rise of 0.2 percent, and with a third-quarter fall of 1.8 percent.
"In womenswear our performance was mixed, with some key areas trading well. However, we performed less well in other areas where we were short of stock in a number of best-selling lines," the group said, adding it had performed well in menswear, lingerie and kidswear.
Bolland said demand was there, but M&S could not meet it.
"We sold 100,000 items on knitwear and we could have sold about 300,000 items, so that was a miss we had simply in our merchandising planning," he said, acknowledging the company had also been caught out by February's cold snap and other trends.
"On (women's) pumps, we could have sold nearly double what we had."
The CEO insisted the sales fall reflected supply issues rather than a fashion misread.
"Were we on trend? We were absolutely bang on trend. Did we have enough of it? We should have had a bit more," he said.
HERE COMES THE SUN
Bolland said M&S enjoyed a good start to its spring/summer clothing launch, backed by an advertising campaign featuring Take That star Gary Barlow singing The Beatles classic Here Comes The Sun.
The campaign is designed to capture the celebratory mood - and boost to trade - that M&S hopes will be generated by Queen Elizabeth's Diamond Jubilee and the London Olympics.
Shares in the 128-year-old group, which prior to Tuesday's update had increased by 17 percent in three months, were down 10.6 pence at 357 pence at 1134 GMT, valuing the business at 5.76 billion pounds ($9.1 billion).
"The decline in general merchandise sales is of some concern given the relatively weak comparatives in the same quarter of last year," said analysts at Conlumino.
M&S, which serves about 21 million Britons a week from 731 stores, said total like-for-like sales fell 0.7 percent over the quarter, below analysts' consensus forecast for a rise of 0.8 percent and against a third-quarter rise of 0.5 percent.
Like-for-like food sales rose 1 percent, also falling short of a consensus forecast of 1.6 percent.
M&S said it would, however, meet profit expectations for the 2011/12 year, having made further cost savings.
Many UK retailers are still struggling as consumers grapple with inflation, muted wage growth and government austerity measures, along with worries about job security and a stagnant housing market.
M&S has, however, generally performed better than most because its older and more affluent customers have been able to withstand the worst of the economic downturn.
For 2012/13, the company expects gross margin to be in a range of flat to up 25 basis points, operating costs to increase by between 3 and 5 percent, and capital expenditure of about 825 million pounds.
After a successful trial, M&S will roll out a new store format tailored to local needs to the bulk of its UK estate, at a cost of 500 million pounds - 100 million less than previously indicated but with no reduction in scope.
© Thomson Reuters 2023 All rights reserved.