M&S profit rise set to bolster Bolland's hand
May 20 - British retailer Marks & Spencer is expected to post a 12 percent rise in full-year profit, giving CEO Marc Bolland a useful base from which to drive for more growth by boosting Internet and overseas sales.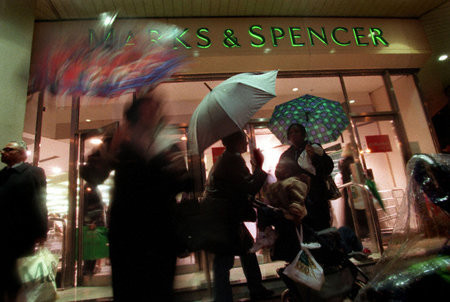 Marks & Spencer store in London
M&S is forecast to report on Tuesday an underlying pretax profit of 695-725 million pounds ($1.13-$1.18 billion) for the year to April 2, according to a company poll of analysts.
The consensus forecast is 710 million pounds, up from 632.5 million pounds made in 2009-10.
M&S is also expected to raise its dividend, with analysts on average forecasting a total payout of 16.5 pence, up from 15 pence last time.
The retailer serves some 21 million people a week from about 700 UK stores and has more than 320, mainly franchise, stores in 41 territories.
A year into the job, Dutchman Marc Bolland is in the enviable position of being able to outline further plans for the clothing, homewares and food retailer while the business is outperforming rivals.
The former boss of Britain's fourth-biggest grocer, Wm Morrison Supermarkets (MRW.L), has so far been true to his pledge of carrying out "evolution not revolution".
As well as working to improve the 127-year-old firm's product offer, marketing, logistics and technology, Bolland has made several key appointments to his management team.
He has poached Laura Wade-Gery from supermarket group Tesco to head M&S' internet business, and Jan Heere from Spanish fashion group Inditex to lead its push overseas, as he seeks to double sales in both divisions to about 1 billion pounds by 2013-14.
Investors will be keen to hear on Tuesday if M&S got the same boost to trade from warm weather over Easter and spending ahead of the Royal Wedding holiday that rival Next reported, although it will not update formally on first-quarter sales until July.
They will also be anxious for news on the impact of higher cotton costs after U.S clothing retailer Gap rattled the industry on Thursday by warning price rises would not be enough to offset all of the impact.
Shares in M&S, which have increased 20 percent over the last year, closed on Thursday at 400 pence, the level of British billionaire Sir Philip Green's indicative takeover proposal in 2004.
BURBERRY BOOST
Strong demand from Chinese shoppers, at home and when travelling, is set to fuel a 40 percent leap in annual profit at British luxury group Burberry on Thursday.
The 155-year-old maker of raincoats and handbags, best known for its camel, red and black-check pattern, said last month underlying profit for the year ended March 31 would be at the top end of analysts' forecasts -- about 300 million pounds.
Investors will be keen to hear if strong growth can continue as some emerging markets take steps to cool their overheating economies. They will also be looking for an update on the firm's plans for its cash pile, with some eyeing a share buyback.
Burberry shares have risen more than sevenfold over the past two and a half years, helped by speculation the group could be a bid target as takeover deals hot up in the luxury sector. They trade at 22.7 times 2011-12 earnings forecasts, above peers LVMH on 20 and Richemont on 17.7.
© Thomson Reuters 2023 All rights reserved.