M&S says markets levelling
LONDON (Reuters) - Retailer Marks & Spencer Group said it was hopeful the downturn in its markets had levelled off as it posted a 40 percent slide in full-year profits and slashed its dividend to conserve cash.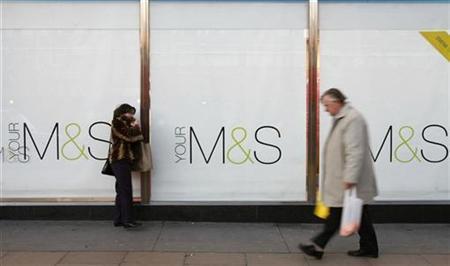 "I'm not into 'green shoots' mode but I am (thinking) maybe this is a plateau at the bottom," Executive Chairman Stuart Rose told reporters on a conference call.
"There's a push-pull going on at the moment between the consumer who is wanting to be more cheerful ... (while) there are still some issues in the financial markets which could destabilise things."
Many retailers have been struggling as shoppers cut spending amid rising unemployment, sliding house prices and fears of a long recession.
However, fashion and homewares group Next and floorings group Carpetright have recently said the market may have bottomed out.
Rose said M&S' trading in the first seven weeks of its new financial year had been broadly in line with fourth quarter trends and it was cautious on the outlook for the remainder of the year.
Sales growth was still negative, "but particularly in foods we've had an improving performance since the late part of last year," he said.
"I anticipate that we can keep that going and I'm hopeful that the sales level in clothing will slowly improve."
Shares in M&S have lost 18 percent of their value over the last year but have risen 23 percent over the last three months on recovery hopes, outperforming the DJ Stoxx European retail index by 15 percent.
The stock was down 7 percent at 315.25 pence at 9:57 a.m., valuing the business at 4.77 billion pounds.
The 125-year-old group, which is the country's biggest clothing retailer, said it made an underlying pretax profit of 604.4 million pounds for the year to March 28.
This compares with analysts' consensus forecast of 603 million pounds, according to a company poll of 34 analysts, and with 1.0 billion pounds made in the previous year. Sales were up 0.4 percent at 9.1 billion pounds.
M&S said it was re-basing its dividend payment to 15 pence from the 22.5 pence paid in 2007/8, a reduction of 33.3 percent.
This would be achieved through a 33.1 percent cut in the final dividend to 9.5 pence, followed by a reduction in the 2009/10 interim dividend to 5.5 pence.
The cut is a blow to M&S' army of about 213,000 small investors. They own about 21 percent of the firm's equity and played a major role in thwarting billionaire retailer Philip Green's takeover attempt in 2004.
It will pile more pressure on Rose, who just 12 months ago raised the total dividend payout by 23 percent and who was already under fire from investors for combining the roles of chairman and chief executive against corporate governance best practice.
M&S said planned new openings in 2009/10 would add about 3 percent to total space in the UK and 20 percent in the international division.
It forecast its UK gross margin would fall by 125 to 175 basis points, with UK operating costs falling by 1 percent and capital expenditure declining 36 percent to 400 million pounds.
M&S ended the year with net debt of 2.5 billion pounds.
"While the dividend cut was largely expected, the modestly reduced space, gross margin and cost guidance, and the absence of any earnings upgrade, could weigh on the shares in the wake of the recent share price outperformance," Citi analysts said in a research note.
By James Davey
(Additional reporting by Mark Potter; editing by Kate Holton, Mike Nesbit, John Stonestreet)
© Thomson Reuters 2023 All rights reserved.