Mango puts bloggers head-to-head
"Mango loves fashion bloggers" is the name of the new project launched by the Spanish clothing retailer. With the aim to give bloggers around the world an opportunity to prove their styling skills, Mango preselected 7 talented fashionistas to take part in the two-stage contest: The American Nathalie Suarez (natalieoffduty.blogspot.com), the Italian Chiara Ferragni (www.theblondesalad.com), the Mexican Andy Torres (www.stylescrapbook.com), the English Poppy Dinsey (wiwt.com), the Spanish Silvia Garcia (www.bartabacmode.com), the Swede Lina Söderström (linadimoda.freshnet.se) and the French blogger Denni Elias (thechicmuse.blogspot.com).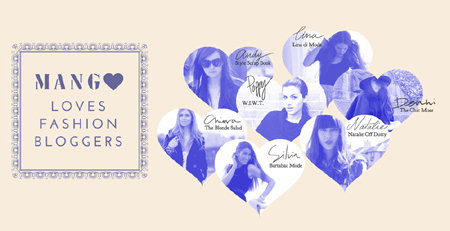 'Mango Loves Fashion Bloggers' project
For the first part, the latter are going to create two outfits which Mango fans on Facebook and Twitter will then decide between. The winner, to be announced around April 1st, will receive a cheque of 5,000 euros for a charity of her choice. As of now, people can go to Mango's website to vote for their favourite look (
direct link
).
As for the 2nd stage, each blogger will be invited to a "shopping night" organised by Mango in their respective countries. They will be filmed whilst giving styling tips to clients and once again, based on the videos, their performance will be judged by thousands of fans. This time, the lucky winner will receive a 20,000 euro cash prize and will become Mango's new It Girl for the Autumn/Winter 2011 season, appearing on the brand's catalogues and websites.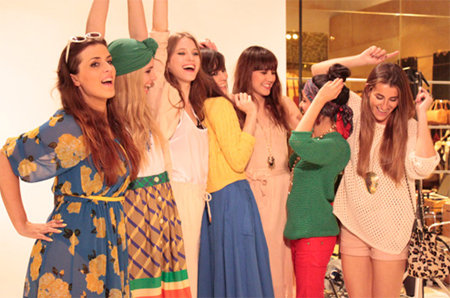 The seven bloggers, posing for the first stage of the contest
With this new "Mango loves fashion bloggers" project, the Spanish retailer is pampering the world's bloggers. This strategy is definitely a lot different from that of its biggest Spanish competitor Inditex (Zara, Berschka, etc.), who drew the wrath of bloggers after being accused of plagiarising their photos. One thing is for sure: these bloggers have become an absolute "must" for fashion brands, given the amount of collaborations and partnerships of all kinds to have emerged in the last few seasons (La Redoute, H&M, André, Pimkie, among others).
Copyright © 2023 FashionNetwork.com All rights reserved.