Mariella Burani says banks could swap debt
By Cristina Carlevaro
MILAN, Sept 28 (Reuters) - Mariella Burani Fashion Group's (MBFG.MI) creditor banks could be ready to swap debt for equity, its CEO told Reuters, adding the luxury goods maker's restructuring plan foresees divestments worth 70-80 million euros ($102.6-$117.3 million).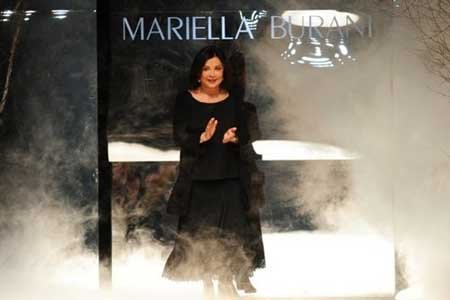 Mariella Burani - fPhoto : AFP
Mariella Burani is also not ruling out the possible arrival of an industrial partner as its tries to end its financial woes, Gabriele Fontanesi said in an interview on Monday 28 September.
"We have finalised the guidelines of the plan ... the key years for restructuring will be 2010 and 2011," he said.
The company's "markedly uncertain situation" prompted the Milan stock market to suspend shares indefinitely on Aug. 31 after it reported a first-half net loss of 142 million euros and debt of nearly 480 million euros. [nLV238448]
The group is talking to creditor banks on a debt standstill and a restructuring agreement and has called a shareholders' meeting to approve a capital increase of up to 100 million euros in five years, including 83.5 million euros to cover losses.
"The banking world would not deem it bad to be involved directly, eventually converting debt into equity," Fontanesi said. "We have the feeling that the banks could be ready to enter (into the capital)."
He said Mariella Burani's banks were Unicredit (CRDI.MI), Intesa Sanpaolo (ISP.MI), Banca Monte dei Paschi di Siena (BMPS.MI), Banco Popolare (BAPO.MI) and others.
The Burani family -- with a stake of more than 70 percent -- is willing to subscribe its part of a cash injection directly or indirectly for about 50 million euros, he said.
The group, which appointed Fontanesi in July, is selling stakes in jewellery makers to focus on apparel and leather goods. Fontanesi reiterated it would not sell leather goods unit Antichi Pellettieri (AP.MI) but was looking at other sales.
"There are some 50 companies for which it makes no sense to keep in the group at a relaunch time like this," he said.
"Divestments of assets or real estate or business or licences are planned for 70-80 million euros to be carried out between 2010 and 2011."
Fontanesi said the conversion of debt into equity did not rule out the arrival of a new partner, "preferably industrial which has more resources and new markets", but adding that for now there was nothing concrete on this.
"We are keeping our eyes and ears open. There is interest from different parties, even from the Orient," he said.
A source close to the talks in Italy confirmed a report this month that U.S. investment fund GEM was interested in the group but did not give details.
Founded in 1960, Mariella Burani is the latest luxury group to fall into financial difficulties as demand for clothes and accessories continues to feel the pinch of the global crisis.
At its spring/summer 2010 womenswear show on Monday 28 September, models wore lace and flower-printed dresses as well as tailored trouser suits and straight skirts in black, white and bright greens.
(Additional reporting by Marie-Louise Gumuchian; Editing by Rupert Winchester)
($1=.6822 Euro)
(([email protected]; +39 02 661 29 734; Reuters Messaging: [email protected]))
($1=.6822 Euro)
($1=.6822 Euro) Keywords: MARIELLABURANI/
(C) Reuters 2009. All rights reserved. Republication or redistribution ofReuters content, including by caching, framing or similar means, is expresslyprohibited without the prior written consent of Reuters. Reuters and the Reuterssphere logo are registered trademarks and trademarks of the Reuters group ofcompanies around the world.nLS645822EU/SMALL
© Thomson Reuters 2022 All rights reserved.