Marks & Spencer bucks retail gloom with sales rise
July 13 - Marks & Spencer bucked the gloom in Britain's retail sector, meeting forecasts with a seventh consecutive quarterly rise in underlying sales as its older and more affluent customers coped better with a squeeze in disposable incomes.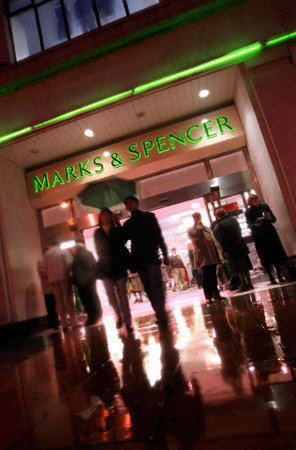 Marks & Spencer branch in London
Britain's biggest clothing retailer, which also sells homewares and upmarket foods, said on Wednesday sales at British stores open over a year, excluding VAT sales tax, rose 1.7 percent in the 13 weeks to July 2, its fiscal first quarter.
That compared with forecasts for a rise of 1-2 percent, according to a company poll and a fourth-quarter rise of 0.1 percent. Like-for-like general merchandise sales, spanning clothing, footwear and homewares, were flat, while food sales were up 3.3 percent.
M&S said in a trading update ahead of its annual shareholder meeting it had won 0.2 percentage point of market share in clothing and 0.1 point in food.
The 127-year-old group, which serves 21 million Britons a week from around 700 stores and has over 350, mainly franchised, stores overseas, said its guidance for 2011/12 was unchanged, even though it, like rivals, started its summer sale early.
The first quarter included a strong April when trade was boosted by warm Easter weather and spending ahead of the Royal Wedding, a more subdued May and a June boosted by the sale, which started two weeks earlier than last year.
M&S shares were down 2.1 percent at 365 pence at 0750 GMT, valuing the business at about 5.7 billion pounds ($9 billion). That fall followed a strong performance by the stock on Tuesday and reflected disappointment the compnay had not performed even better in the first quarter.
"Given how good April was, plus the earlier summer sale, we had hoped for more like 2 percent like-for-like (growth) in general merchandise in Q1, ... but the outcome is only flat (ex-VAT), which is a bit disappointing," said Arden Partners analyst Nick Bubb.
In common with a raft of other retailers, M&S said trading conditions would stay tough due to pressure on consumers' incomes and high commodity prices.
"Against the uncertain economic backdrop, we are focused on trading through the short term, while building for the long-term growth of the business," chief executive Marc Bolland said.
Innovation is at the heart of his strategy, which also focuses on expanding online and abroad. As well as working to improve M&S's product offer, stores, marketing, logistics and technology, he has made key appointments to his management team.
British shoppers are grappling with rising prices, subdued wages growth, a lack of credit, job insecurity, a stagnant housing market, government austerity measures and fears of interest rate rises. This has led to a recent spate of retail failures and more are expected. Retail sales showed sluggish year-on-year growth of 1.5 percent last month with demand for big-ticket items remaining weak, an industry survey found on Wednesday, adding to worries about second-quarter GDP growth.
(Editing by Paul Sandle and Dan Lalor)
© Thomson Reuters 2023 All rights reserved.