Marks & Spencer posts first profit fall in 3 years
LONDON - Bellwether British retailer Marks & Spencer posted a 1.2 percent fall in full-year underlying profit, its first decline in three years, as even its relatively older and more affluent customers were touched by the economic downturn.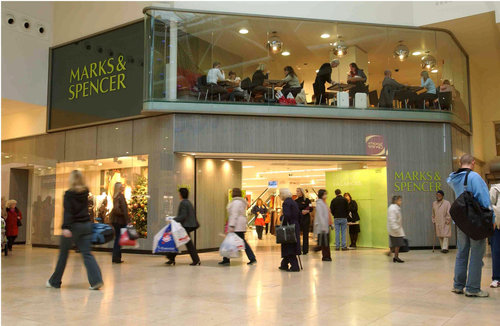 Marks & Spencer's Basingstoke store / Photo: Marks & Spencer
Britain's biggest clothing retailer, which also sells homewares and upmarket foods, said on Tuesday it made a profit before tax and one-off items of 705.9 million pounds ($1.12 billion) in the year to March 31.
That was down from the 714 million pounds made in 2010/11 and compares with analyst forecasts in a range of 675-706 million pounds, according to a company poll which put the consensus number at 694 million pounds.
Last month M&S missed fourth-quarter sales forecasts after running out of best-selling women's knitwear and footwear lines but said it would meet year profit expectations having made further cost savings.
Full-year sales at the 128-year-old group, which serves about 21 million Britons a week from over 730 stores, rose 2 percent to 9.9 billion pounds, with sales at UK stores open over a year up 0.3 percent.
The firm said it would pay a maintained dividend of 17.0 pence.
"M&S performed well in a challenging economic environment ... holding market share. We also made good progress with our strategic plans," said Chief Executive Marc Bolland.
He said the firm's UK pilot stores had delivered good results, giving it confidence to roll-out the programme.
Bolland said M&S was also on track to become a truly international multi-channel retailer.
"By the end of this year we will be transacting from 10 websites worldwide and opening around 100 international stores per year," he said.
M&S did not comment on current trading, saying it would update on the first quarter on July 10.
Many UK retailers are struggling as shoppers grapple with higher prices, particularly for fuel, muted wage growth and government austerity measures, and worry about job security, shaky housing markets and fallout from the euro zone debt crisis.
A survey on Monday said Briton's household finances worsened at their fastest rate in four months in May, while earlier this month cards and gifts chain Clinton Cards CLCA.L collapsed into administration, a form of protection from creditors.
M&S said last month it had enjoyed a good start to its spring/summer clothing launch, backed by an advertising campaign featuring Take That star Gary Barlow singing The Beatles classic "Here Comes The Sun".
The campaign is designed to capture the celebratory mood - and boost trade - that M&S hopes will be generated by Queen Elizabeth II's Diamond Jubilee, Euro 2012 soccer and the London Olympics.
However, after M&S updated on April 17 Britain endured a further month of torrential rain that is particularly unhelpful for fashion sales. Better weather is forecast for the next two weeks.
Shares in M&S, which prior to Tuesday's update had lost 14 percent of their value over the last year, closed at 337 pence on Monday, valuing the business at 5.41 billion pounds.
© Thomson Reuters 2023 All rights reserved.