MCS acquired by Emerisque Brands
After selling Valentino Fashion Group and the M Missoni license to the Qatar royal family for 720 million euros in July 2012, British investment fund Permira has just sold MCS Italia – which owns MSC We The People – to Emerisque Brands. With a line for men and women, the brand's aesthetic is inspired by the American cowboy and was originally launched in 1987 under the name Marlboro Classics.

Though no figures have been disclosed on the deal, the transaction between Permira and Emerisque Brands was processed via financial vehicle corporations Cavaliere Holdings and Red and Black, a company indirectly controlled by Permira and the Marzotto family.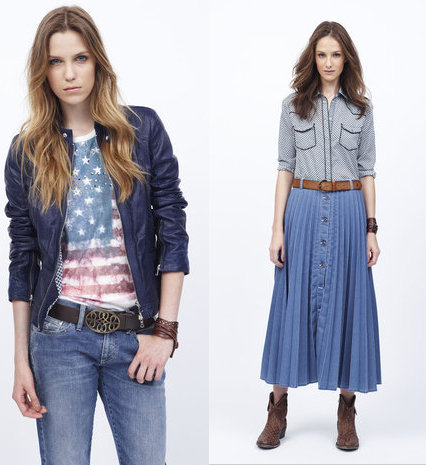 MCS collection femme
Founded in 2004, Emerisque Brands is a global investor based in the United States, specializing in the growth and development of fashion brands and chains. The group has previously invested in international brands such as Lee Cooper, Hickey Freeman, Bobby Jones, and Palm Beach.
"For some time now, Emerisque Brand has been interested in adding to its portfolio an Italian brand with interesting prospects in emergent markets such as China, Russia, India and the Middle East. With this acquisition we hope to be able to create a platform to invest in other Italian fashion brands," explains Massimo Gasparini, president of MCS Apparel and representative of Emerisque Brands in Italy.
"MCS We The People is a popular brand because of its West-American image, but its contemporary Italian edge makes it accessible to a global consumer. Thanks to our experience in managing and developing international brands, we hope to be able to help MCS to reach its full potential in important markets," says businessman Ajay Khaitan, co-founder of Emerisque Brands and ex-CEO of Lee Cooper.
The brand is currently present in 40 countries including across the world via 1400 points of sale and 300 own-brand stores and corners and employs 400 members of staff.
In 2012, MSC reported turnover of 110 million euros, down from 125 million euros in 2011. "The acquisition will allow the company to consolidate its position in the casual clothing market," concluded CEO of MCS, Mario Rinaldi.
Copyright © 2022 FashionNetwork.com All rights reserved.