Michelle Obama picks yellow for inauguration dress
By Jill Serjeant
LOS ANGELES (Reuters Life!) - Michelle Obama, hailed by many as America's new style icon, officially took her place on the world stage on Tuesday wearing an outfit in the nontraditional color of yellow and set fashionistas atwitter.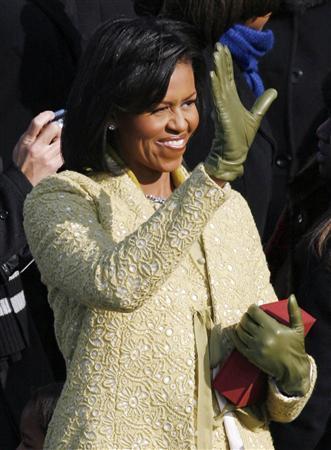 The new U.S. first lady, 45, chose a sparkling sheath dress and matching coat in a yellow-gold hue by Cuban-born American designer Isabel Toledo for the presidential swearing-in ceremony. She matched it with a wide diamante necklace.
What she will wear to the formal inaugural ball later on Tuesday remained a tightly held secret. But her choice is expected to provide clues to her future balancing act as glamorous first lady in a time of deep recession.
Michelle Obama, a former lawyer, has been credited with bringing a chic, youthful style to U.S. politics and for mixing comfortable chain store garments from the likes of Gap and J. Crew with edgier new designers like Chicago's Mario Pinto and Narciso Rodriguez.
Initially seen as slightly aloof, she won hearts in June by wearing an affordable $148 black and white off-the-rack dress for an appearance on the popular female TV chat show "The View." It sold out nationwide overnight.
Her swearing-in outfit was a departure from the red, white or blue tones often adopted by U.S. female politicians on high-profile occasions.
Yellow is traditionally seen in many parts of the world as a symbol of hope and optimism, style experts said.
'RADIATED HOPE AND OPTIMISM'
"Yellow is the color of optimism and confidence and hope ... The whole ensemble radiated hope and optimism," Mandi Norwood, a former editor at Mademoiselle magazine who is writing a book on Michelle Obama's style, told Reuters
But Obama's choice did not get a universal thumbs up. An online poll on the Us Weekly celebrity magazine site showed 55 percent of readers hated the outfit and 44 percent loved it.
Bonnie Fuller, former editor in chief of Glamour magazine, called it "bold" but wondered, "Is she walking around in inaugural upholstery?" Fuller wrote in a blog on the www.huffingtonpost.com Web site that she had heard one observer quipping that the first lady was "wearing a couch."
New York-based designer Toledo said the coat and dress were made of Swiss wool lace, backed with netting for warmth on the bitterly cold Washington morning, and lined in French silk.
"For me yellow represents hope," Toledo told Reuters. "I called it lemongrass because it's not exactly a yellow, it's not a green, it's just in-between. It's full of sunshine. It really feels like freshness to me."
"I wanted to capture optimism, I wanted it to feel happy, I wanted it to feel inclusive," she said.
With home foreclosures and layoffs plaguing Americans across the United States, fashion commentators expect Obama to go for understated glamour at the 10 inauguration galas she will attend, wearing nothing too glitzy or frivolous.
Dressing down too much could attract as much criticism as extravagance.
Former first lady Rosalynn Carter was criticized during the 1970s oil crisis for wearing her previously worn, off-the-rack gown to the 1977 inaugural ball.
In 1981, Nancy Reagan was deemed "too Hollywood" with her white, one-shoulder, lace satin sheath with crystal beads.
Los Angeles Times fashion critic Booth Moore doubted Michelle Obama would take the Rosalyn Carter line for her inaugural ball dress.
"At least for one night, we want our first lady to be more glamorous than the rest of us. We don't want her to be Secondhand Rose, but we don't want her to be Marie Antoinette either. The secret to Obama's sartorial success so far has been walking the line between the two. Here's hoping she continues to do so," Moore wrote on Tuesday.
Obama is already considered an ambassador for American fashion. She was listed in Vanity Fair's magazine's "10 of the World's Best Dressed People" in both 2007 and 2008 and has drawn numerous comparisons with Jacqueline Kennedy.
"It's not only about the way she dresses, but also the way she will conduct her life. The eyes of the world will be on her. She will have a big impact," designer Oscar de la Renta told U.S. fashion bible Women's Wear Daily.
(Additional reporting by Belinda Goldsmith and Alexandria Sage; Editing by Cynthia Osterman and Todd Eastham)
© Thomson Reuters 2023 All rights reserved.