Mizuno's president resigns from his position to become CEO of Tokyo 2020 Olympic bid committee
In 1983, Masato Mizuno was appointed as the representative director of the Japanese sporting goods giant which was founded by his grandfather.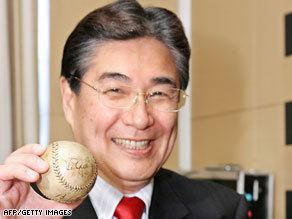 Masato Mizuno (photo by AFP)
But the former Mizuno chairman and representative director recently submitted his resignation in order to become CEO of the Tokyo 2020 Bid Committee. The Japanese capital is one of the contenders to host the 2020 Olympic Games, together with Rome, Istanbul, Baku (Azerbaijan), Madrid and Doha (Qatar).
Following Masato's departure, Mizuno appointed Executive VP Jotaro Ueji as the company's new representative director, effective October 1.
Copyright © 2023 FashionNetwork.com All rights reserved.