Mode City publishes a detailed overview of the swimwear market
While preparing its next session, to be held from the 7th to 9th July, Mode City, the summer lingerie and swimwear fair by Eurovet, has released a market study on the swimsuit segment. Entrusted to the office of the NDP, the report foresees a stable or positive outlook by country. Globally, the total turnover in cash outflows for swimwear in 2010 totaled 7.8 billion euros. A figure of 2% growth that year, carried one-third by the United States, which has increased in value by 1%. The second largest consumer of swimwear is once again France, which was up 5% in 2010 and remained stable in 2011.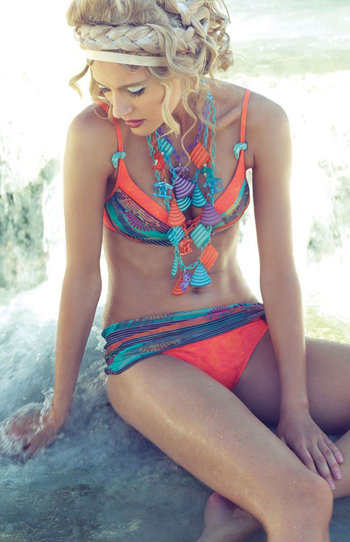 Save The Queen Sun spring-summer 2012.
Even if global figures have not yet been published for 2011, the leading five European countries (on a continent that accounts for a third of the global consumption) are known. In order of volume, France, Italy, Spain, Germany and the UK alone represent 70% of European consumption of swimwear.
If France was stable in 2011, totaling a turnover of 432 million euros, Italy, trailing just behind it, saw a decline of 3% to 417 million euros. NPD explains the downturn as caused by the economic crisis gripping the country because, in its view, all segments of the industry--recreation and sports, women's, men's and children's—were similarly affected. Spain, however, did not see the crisis affect the resort market. Sales have increased by 2% in value (410 million) and 5% in volume. The explanation for this performance would lie in this case in the tourism downturn on the Iberian Peninsula at the expense of Maghreb. Germany and the UK, smaller consumers (on respectively 336 million and 259 million euros) also grew by 2% in their total turnover.
Copyright © 2023 FashionNetwork.com All rights reserved.