Mode City satisfied with steady number of visitors
Everyone was saying it: don't expect a colossal 2012 for Mode City. The goal of the event organizers of the beachwear and lingerie fair, held from July 7 to 9 July at the Porte de Versailles, was to stabilize the positive results of 2011. Mission accomplished, according to Eurovet, which reported 15,324 visitors for three days, versus 15,209 last year. While the French contingent continues to decline, the international crowd grows little by little, this time reaching 73% of total visitors.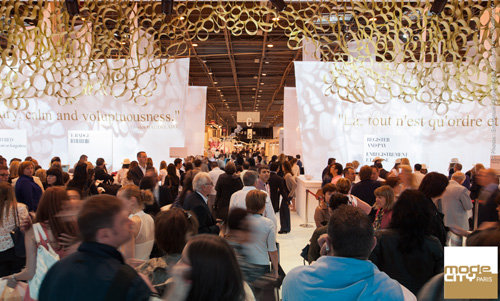 The entrance to the 2012 edition of Mode City, which took place July 7 to 9
For Séverine Marchesi, exhibition director of Mode City and the auxiliary January fair, the Salon International de la Lingerie, such stability is a positive result. "In a sluggish economy for the sector, and given the results of fairs that were held prior to ours, it is ultimately very satisfying to have shored up our figures from 2011," she said.
As for exhibitors, except for a few minor details, the consensus was that the show was generally satisfactory. Those brands with a very international focus logically did better than others, which again pointed the finger at the proximity of the start of French retailers' summer sales. "At the time of the date change in 2011, I was opposed to the July dates because beachwear retailers do not understand them," said Daniel Flachaire, CEO of Banana Moon. "Except that since then, I am now convinced that these [new dates] enabled us to win new international customers while continuing to see others in September," he added.
But for many, beyond the issue of dates, a bad season in France or even a very bad phase for some countries also weighed heavily. "Obviously there is a lack of French retailers and especially from southern Europe ... But this is a fair that was good for us. Our key accounts came, also old customers. Our booth was more than full on Sunday," said Hubert Lafont, CEO of Barbara, which is in the midst of a major relaunch.
As he had predicted, the three declining countries were in fact France (only by a few points), but especially Italy (still came in second despite a drop of 13%) and sixth-place Spain (14% down). On the other hand, good performances were delivered by Germany in third place, up 7%; Great Britain, in fourth place with an increase of 6%; Japan, which again made the "Top 10" countries, up 16%; and Russia, which rose from ninth to seventh place, an increase of 12%. In general, Eastern Europe also created a buzz among exhibitors. Buyers from the former Soviet Union stood out, led by an increase of 23% for Ukraine and 37% for Kazakhstan.
Copyright © 2023 FashionNetwork.com All rights reserved.