New Look pulls IPO as market stalls
By Mark Potter
LONDON (Reuters) - Budget fashion retailer New Look has postponed its planned initial public offering (IPO), making it the third private equity-backed firm in as many days to abandon a flotation in turbulent financial markets.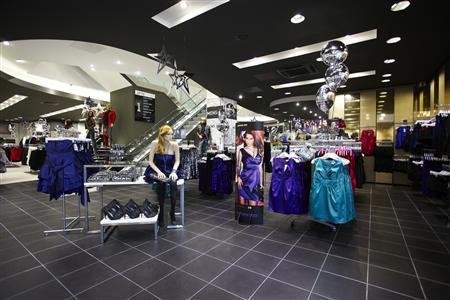 The decision will put a question mark over other IPO hopefuls, like travel firm Amadeus and online grocer Ocado, and marks the second time in three years that New Look, backed by private equity groups Permira and Apax, has abandoned a sale.
"We've had some really positive initial feedback from investors, who were very supportive of the business, but the timing just isn't right," said Chief Executive Carl McPhail.
"We will re-evaluate our options when market conditions improve."
A person familiar with the matter said New Look's owners had favoured an IPO over a sale to other private equity houses, and dampened speculation the latter might emerge as a strong prospect, saying the owners were "not sellers at any price."
IPOs across the world have struggled as equity markets have faltered in a sluggish economic recovery.
Of over 60 IPOs launched since December 1, about half have been shelved, while retail shares .FTASX5370 have fallen more than 11 percent so far this year.
Investors have baulked in particular at businesses sold by private equity firms, having been stung by companies such as retailer Debenhams (DEB.L), which was floated by private equity owners in 2006 laden with debt and saw its shares plunge.
On Thursday 18 February, theme park operator Merlin Entertainments, which is backed by private equity firm Blackstone, said it would not launch its IPO in the near future.
A day earlier travel services group Travelport, also backed by Blackstone, abandoned its listing despite slashing the price range for shares by a quarter.
PRIVATE EQUITY
Prior to launching its IPO, New Look was reported to have attracted interest from private equity bidders amid signs of a pick up in dealmaking between private equity groups.
Last month, for example, private equity house Kohlberg Kravis Roberts KKR.UL bought retailer Pets at Home from rival Bridgepoint.
After announcing the IPO on February 2, however, New Look said it was focussed solely on a flotation, and some bankers think it could be too large for private equity bidders given the turbulence afflicting financial markets.
British discount fashion chain Matalan called off its planned sale on Wednesday 17 February after bids from private equity firms failed to tempt owner John Hargreaves.
New Look had hoped to raise around 650 million pounds ($1 billion) in its IPO to cut its debt to about 450 million pounds.
Sources close to the matter had expected the firm to be valued at about 1.7-2.0 billion pounds, including debt.
New Look was taken private in 2004 for 699 million pounds by Apax APAX.UL, Permira PERM.UL and founder Tom Singh and scrapped a previous attempt to sell the business in 2007, because it did not think offers were high enough.
(Editing by James Davey and Sharon Lindores)
© Thomson Reuters 2023 All rights reserved.