Nike future orders disappoint, shares fall
Dec 22 - Nike Inc posted future orders data that missed many analysts' expectations Tuesday, sending shares of the world's largest athletic shoe and clothing maker down almost 6 percent.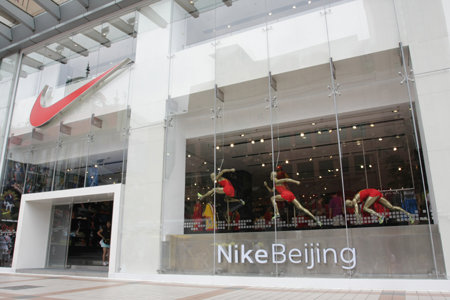 Nike's Beijing Store
Nike also said it might undertake some targeted price increases to help offset rising cotton costs.
Future orders, excluding currency exchange rates -- a key measure of sales growth -- rose 11 percent.
"They didn't beat rising expectations for future orders and that's why the stock's down," said Jon Fisher, portfolio manager with Fifth Third Asset Management, which owns Nike shares. Wall Street was looking for future orders growth of 12 to 13 percent, he said.
Nike executives also repeated comments made in the previous quarter that rising cotton, labor and transportation costs would hurt profit margins in the second half of the fiscal year despite rising demand. They said the cost pressures would ease over the next 12 to 18 months.
"As supply and demand find a new normal in the recovering economy, our industry is going to experience margin pressure due to rising input costs," Nike Chief Executive Mark Parker said on a conference call.
Executives again said the company is working to boost capacity at supplier factories and it would continue to incur higher-than-normal air freight costs at least through the first half of fiscal 2012 as it tries to meet strong demand.
Forecast-beating quarterly profits reported by athletic footwear retailer Finish Line Inc Tuesday underscored the demand.
Nike's net income in the fiscal second quarter rose 22 percent to $457 million, or 94 cents a share, from $375 million, or 76 cents a share, in the year-earlier period. That was 6 cents better than analysts polled by Thomson Reuters I/B/E/S had expected.
Sales in the quarter ended Nov. 30 rose 10 percent to $4.84 billion, above the $4.81 billion analysts had expected. Excluding currency fluctuations, revenue rose 11 percent.
By region, revenue in Nike's largest market, North America, increased 14 percent to $1.7 billion, while sales in emerging markets and greater China rose 24 percent and 20 percent, respectively.
Orders for Nike brand shoes and apparel scheduled for delivery from December 2010 through April 2011 totaled $7.7 billion. However, the 11 percent rise from a year ago orders, which included minimal impact due to currency effects, disappointed many analysts.
Sterne Agee and Barclays Capital had expected future order growth, excluding currency effects, of 12 to 13 percent, UBS had expected 13 percent and Susquehanna International Group had forecast growth in the mid-teens range.
Others had expected a lower increase, including Stifel Nicolaus (10 to 12 percent) and McAdams Wright Ragen (10 to 11 percent).
The company in the first quarter had seen saw a 13 percent rise, the biggest increase in more than a decade.
Nike said its full-year financial forecast is unchanged, with revenue excluding the impact of currency exchange rates to grow in the high single-digits on a percentage basis. For the third quarter, revenue should grow at the top end of the full-year forecast, executives said.
Chief Financial Officer Don Blair said second-half gross margins would fall below record levels seen in 2010, but Nike would look to take "surgical" price increases market by market and minimize inventories and promotions.
He said 2011 gross margins would be at least 50 basis points below 2010. Gross margins in the second quarter rose 80 basis points to 45.3 percent as more full-price sales and fewer promotions offset the higher freight costs.
Shares fell to $87.00 in after-hours trading, down 5.7 percent from Tuesday's closing price of $92.30 on the New York Stock Exchange.
Nike shares hit an all-time high of $92.49 earlier in the day. The stock has risen almost 19 percent since the company reported stronger-than-expected first-quarter results and surging consumer demand on Sept. 23.
"The stock's had a really good run here ... and there's going to be some profit taking," Fifth Third's Fisher said. "I don't take away any negatives from this at all."
(Reporting by Ben Klayman in Detroit; editing by Carol Bishopric, Matthew Lewis and Leslie Adler)
© Thomson Reuters 2023 All rights reserved.