Nike, Gap, Levi's reveal best practices in apparel industry purchasing
A new report issued by As You Sow in partnership with Gap, Timberland, Nike and more shares examples of how policy changes made in apparel industry boardrooms can result in improved working conditions, cost reductions and revenue gains throughout the entire supply chain.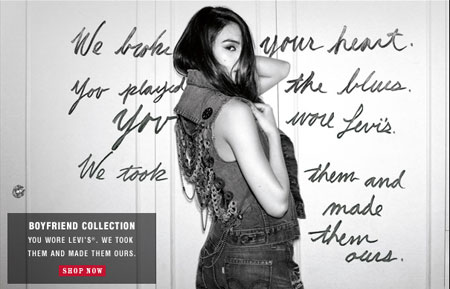 Levi's Boyfriend Collection
The report, titled "Best Current Practices in Purchasing: The Apparel Industry" (PDF), also includes case studies from Levi Strauss & Co., Nordstrom, Jones Apparel, and Phillips-Van Heusen showing how improved purchasing practices have huge ripple effects through the supply chain.
Each of the companies mentioned above provided As You Sow with case studies outlining innovative pilot programs in 5 specific areas: corporate culture, designing and buying, forecasting, production management, and pricing. 2 key takeaways for brands noted in the report:
- Implement product lifecycle management (PLM) systems and policies. Focusing on the full lifecycle of a product enables all actors in the supply chain to understand the time they have and the time they need to complete their stage in the production process, increase speed to market, adhere to drop dead dates, and save money. PLM implementation can be linked to individual and / or departmental bonuses to better assure its success.
- Adopt, at minimum, activity-based or component costing for pricing. Being able to build a price from the "costs up" enables companies to negotiate truly fair prices with their suppliers. It is also recommended that brands and retailers move towards a Total Cost Management (TCM) system.
TCM is "a systematic approach to managing cost throughout the life cycle of any enterprise, program, facility, project, product, or service."9 In the apparel industry, TCM takes into account the total costs of getting an item from the raw materials stage to the stores and incorporates each cost into the price of a product.
By Thomas Miner. Source: Sustainable Life Media from Reuters
Copyright © 2023 FashionNetwork.com All rights reserved.