Nike profit up but shares tumble on US concerns
By Alexandria Sage
SAN FRANCISCO (Reuters) - Nike Inc stressed on Wednesday that it was still a growth company even as U.S. weakness spooked investors, sending shares down 5 percent on a day when the world's largest athletic shoe and apparel maker posted strong international results.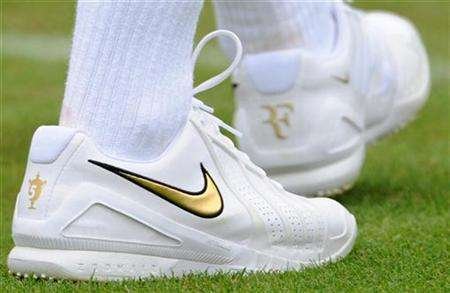 Nike, which has been controlling its inventory in its home market amid an economic slump, said U.S. advanced orders for its goods through November were flat, which one analyst called a "a sign of the times."
"The U.S. market is the most mature so you would expect after a time it's hard to keep growing and growing," McAdams Wright Ragen analyst Sara Hasan said. "Add on top of that the consumer is pretty weak. They've been pretty immune to that."
Besides robust international growth, a 12 percent rise in fourth-quarter profit was helped by a $32 million gain in the quarter from its sale of Nike Bauer Hockey, while its tax rate fell compared with a year earlier due to more profit coming from outside the United States.
Those benefits, when excluded, may have made Nike's actual earnings seem lighter than expected, Thomas Weisel analyst Jim Duffy said.
"Everybody was expecting a solid if not strong quarter. There were probably some that thought earnings would come in even better than where they did," Duffy said. "The level of spending surprised people."
Nike has been spending on its U.S. retail expansion, marketing for the World Cup and Olympics, and in integrating its newly acquired Umbro soccer brand.
"Nike is a growth company," stressed Chief Executive Mark Parker, speaking to analysts on a conference call, while acknowledging that the current U.S. economic environment was "challenging."
"Strong companies who are able to navigate through those tough times can come out even stronger," Parker added.
Nike's net income in the fourth quarter rose to $490.5 million, or 98 cents per share, from $437.9 million, or 86 cents per share, a year earlier. Revenue rose 16 percent to $5.1 billion, above the low double-digit growth Nike had expected.
Analysts on average had expected earnings of 96 cents per share on revenue of $4.95 billion, according to Reuters Estimates.
Nike has been helped in international markets by a weak dollar, even as commodity costs rise. In the United States, where shoppers have curbed spending, the Portland, Oregon-based company says it is gaining market share as it diversifies to appeal to all price points amid tepid growth.
Sales in the quarter rose 4 percent in the United States, with footwear rising 6 percent and apparel only 2 percent.
Nike Brand President Charlie Denson said the U.S. business was dragged down by the sportswear apparel segment. "The rest of the business is in pretty good shape," he said.
The company will focus on more premium merchandise that is better distributed and differentiated, he said.
Long term, Denson said he was still had a "very bullish perspective" on the U.S. market, citing growth opportunities in action sports and sports culture, with clothes that speak to the sports lifestyle, but aren't designed for competing.
The company said profit margins in the United States weren't eroding. "We feel very good about the profitability of the U.S. business," Chief Financial Officer Don Blair said.
Overall, gross margins during the quarter improved to 45.8 percent of sales from 43.8 percent a year earlier, while costs rose to 33.1 percent of revenue from 29 percent.
Looking to fiscal 2009, Blair said the company expects modest improvement in gross margins, with revenue growth in the high single digits on a percentage basis.
European revenue rose 19 percent and Asia-Pacific sales rose 39 percent, where they were helped by changes in currency exchange rates that boosted growth 13 percentage points.
Global orders for delivery of shoes and apparel from now through November rose 11 percent, with flat orders in the United States and a gain of 10 percent and 31 percent, respectively, in Europe and Asia.
Nike shares trade at nearly 17 times projected fiscal 2009 earnings, at a premium to rival Adidas AG , at 11, and casual shoemaker Wolverine World Wide Inc , at nearly 13 times estimated forward-looking earnings.
Nike shares fell to $62.80 in extended trading after closing on the New York Stock Exchange at $65.97.
(Editing by Mark Porter and Braden Reddall)
© Thomson Reuters 2023 All rights reserved.