Nike Sportswear and Selfridges give tribute to football
Nike and Selfridges install a Nike Stadium in the London department store until the end of July to offer an enhanced football experience for visitors.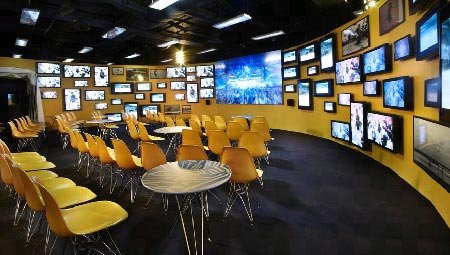 The Nike Stadium @ Selfridges
Selfridges store proposes the Ultralounge; a space of 325 square metres, fully dedicated to football. From exhibitions to art installations, extending to foosball tables and latest video games; nothing has been left to chance in ensuring visitors are provided with the most complete football-based experience possible.
To follow the World Cup closer to the action, and to discover the history of the football, this new area offers a sea of 62 high definition plasma screens. Of course, to complete the event, in the store's first floor men's wear department, there is a special selection of Nike Sportswear & Footwear Collections.
Note that outside the store, the London based illustrator HelloVon completes Nike Stadium's installation with 17 window displays located at Oxford Street's Selfridges with a series of paintings of football champions. His works combine digital technology and traditional media.

*Ultralounge, Lower Ground Floor Selfridges - 400 Oxford Street - London
Copyright © 2022 FashionNetwork.com All rights reserved.