Nina Ricci and Olivier Theyskens officially part ways
Whilst the rumours concerning the replacement of Kris Van Assche by Gareth Pugh at Dior Homme have been flying around, the ones surrounding the departure of Olivier Theyskens have been officially ended. Nina Ricci and the designer announced an end to their contract that had been running since the late stages of 2006 "a season before what had been planned originally", according to the Puig group – owners of Nina Ricci.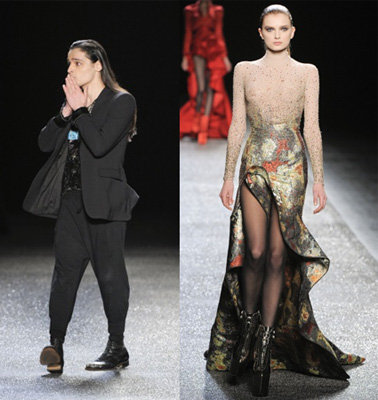 Olivier Theysksens (l) and one of his creations for autumn-winter 2009/2010(r)
The fashion house "wants to reorientate strategy and development. As a result, Nina Ricci and Olivier Theysksens have mutually agreed to end their collaboration." The 32 year old designer; former stylist at Rochas, and the directors of Puig seemingly could not find a middle ground regarding the future of the house, founded in 1932.
When he came to the position that had been occupied by the Swede Lars Nilsson in 2003, Olivier Theysksens was charged with putting the brand back in the spotlight and renewing its image with themes of fantasy, femininity, light and sweetness. The Spanish group declared that "his will to focus all of his efforts on the brand will ensure that Nina Ricci has a predominant place in the luxury market."
Rumours in the fashion world have been suggesting for more than a month that his successor will be Peter Copping.
By Jonathan Fulwell (Source: Julie Mangaud)
Copyright © 2023 FashionNetwork.com All rights reserved.