Nina Ricci launches new store concept with Dubai flagship
French couture and fashion house Nina Ricci has just opened the doors to its Middle East flagship in Dubai Mall. Located in Fashion Avenue, this 120 square meter boutique is the first one in the world to unveil the new global retail concept for the brand.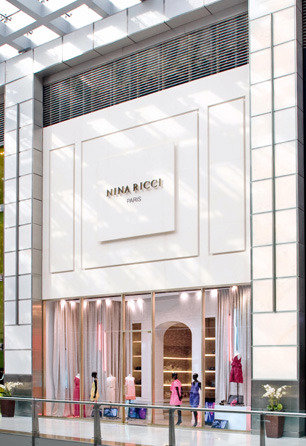 Nina Ricci exterior at Dubai Mall Fashion Avenue
Inspired by Parisian 'bourgeois' apartments of the 1940s, the new boutique's interior is romantic and warmth. "We wanted to bring a very obvious Parisian style to the interiors and create the look of an apartment." said Peter Copping, artistic director of Nina Ricci.
The entrance hall is connected with the inner 'living room' via an archway with sliding doors that allows the guest to privatise the space if desired. Heavy beige silk curtains, sofas, silk rugs and low chairs create a homely touch of comfort. The Middle East customer's need for discretion has been taken into special consideration, particularly in the design of the changing rooms which are spacious and private, allowing the clients to immerse in a chic Parisian world.
The centerpiece chandelier and the brand's signature colour palette of powdery grey mattes reinforce the feminine feel of the boutique, while full-length old mercury mirrors and vintage furniture enhance the overall retro feel. The "torsade" motif, a hallmark of the brand, is used as a discreet theme to tie all the elements together.
The Spring-Summer collection hangs on a line of metal rails with gold finish while the small leather goods and jewellery are showcased in 1940s style display cabinets with metal frames in gold finish, suspended glass covers and leather-lined trays. The accessories are presented against wall panels in glass with a matte gold leaf backing which changes tint from champagne to deeper amber depending on the accessory displayed.
Copyright © 2023 FashionNetwork.com All rights reserved.