Oscar de la Renta looks at London, not Paris
NEW YORK June 2 (Reuters) - Oscar de la Renta would like to have a larger presence in Paris, but high rents preclude the fashion house from opening a store there for now, the company's chief executive said on Wednesday 2 June.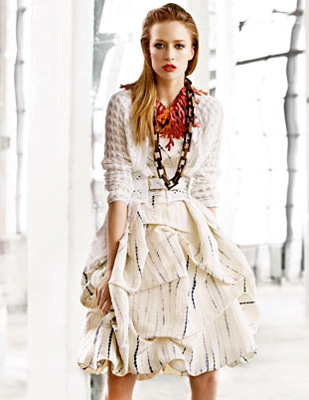 Oscar de la Renta
"Paris makes tremendous sense for us as a fashion capital, visibility-wise, but rents in Paris are really still very tough," Alex Bolen said at the Reuters Global Luxury Summit in New York.
In contrast, Oscar de la Renta is actively looking into opening a store in London, given that the depreciation of the British pound has made doing business there more affordable, he said.
Bolen said Europe's current debt crisis and the uncertainty in global stock markets was giving him pause about the impact on luxury spending.
While its home U.S. market makes up about two-thirds of Oscar de la Renta's sales, Bolen said he is targeting international sales to rise to 50 percent from the current 35 percent.
"We've been very focused recently on our international expansion, which is a work in process," Bolen said, adding that Oscar de la Renta has beefed up its retail presence in addition to its wholesale business.
Bolen also said he expects overall sales to triple in the next three to five years. He declined to say what the privately held company's sales levels currently are.
Oscar de la Renta, best known for ultra-luxurious women's cocktail dresses and evening gowns, has begun exploring men's lines, Bolen said, adding that any men's category would be more likely to focus on casual wear than suits.
Bolen said the company has no current succession plans for its eponymous 77-year-old founder.
(For more on the Reuters Global Luxury Summit, see [nLDE6500F5])
(Reporting by Phil Wahba, editing by Michele Gershberg and John Wallace)
(([email protected]; + 1 646 223 6128)) Keywords: LUXURY SUMMIT/OSCAR
(C) Reuters 2010. All rights reserved. Republication or redistribution ofReuters content, including by caching, framing or similar means, is expresslyprohibited without the prior written consent of Reuters. Reuters and the Reuterssphere logo are registered trademarks and trademarks of the Reuters group ofcompanies around the world.nN02173728
© Thomson Reuters 2022 All rights reserved.