Pandora charms investors with $2 bln market debut
COPENHAGEN, Oct 5 (Reuters) - Danish jeweller Pandora PNDORA.CO made a debut worth up to $2.1 billion in one of Europe's largest market listings this year, as investors bought into prospects for its main product -- charm bracelets.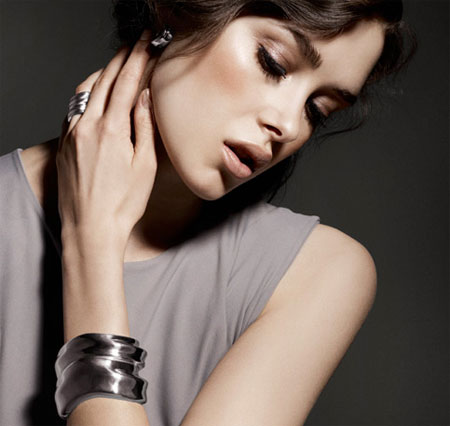 Pandora - Liquid Silver Collection
Pandora shares, priced at 210 Danish crowns in the initial public offering, leapt in lively trading and closed up at 263, giving investors a 25 percent gain and valuing the company at about $6.1 billion.
More than 4 billion crowns ($739 million) of Pandora stock changed hands on the Copenhagen stock exchange -- nearly double the normal daily turnover for the whole bourse.
Analysts said Pandora's high growth and strong margins made the share offer attractive to investors hungry for new stock after a period of scant IPO activity, despite its short track record and heavy reliance on a single product.
Pandora's mass-market jewellery, sold mainly in the United States and Europe, is priced in an approximate $50-$1,500 range. That compares with luxury pieces from brands such as Bulgari (BULG.MI) or Chaumet, which start at around $800 and can reach more than $1 million.
Pandora, which manufacturers jewellery relatively cheaply in Thailand where it employs most of its 4,500 staff, priced its IPO at the high end of a preliminary range of 175-225 crowns.
Sydbank analyst Soren Lontoft Hansen said the IPO price was "fair" but assumes strong prospects for the firm.
Pandora, established as a Copenhagen shop in 1982, has grown briskly over the past decade, with revenue of about 465 million euros ($640.4 million) in 2009.
NORDIC THAW
Its big seller, charm bracelets, are made of silver or gold, with the charms of stones such as amethyst, onyx or moonstone. It made 86 percent of first-half sales from bracelets and charms.
"The offering attracted strong interest from investors both in Denmark and internationally," said Pandora, which made 41 percent of its first-half sales in the United States.
The stock trades at a price-to-earnings of about 17 times 2010 earnings, said Jyske Bank analyst Jens Thomsen. That puts it above a P/E of 13.5 for Signet Jewelers (SIG.N)(SIG.L), which operates in the mid-tier market between discount outlets like Wal-Mart (WMT.N) and high-end names such as Tiffany (TIF.N).
The listing marks a further thawing of the Nordic IPO market after years of little activity. In Denmark, it follows food ingredients maker Chr. Hansen's (CHRH.CO) June listing.
"There has been phenomenal high demand, higher than I expected," said Danske Invest portfolio manager Jesper Poll.
"The idea is to make (this) one of the most successful branded companies in jewellery and luxury goods," Pandora's chairman Allan Leighton, the British businessman who made his name at supermarket group Asda, told Reuters.
Analysts said Pandora must overcome its one-sided reliance on charm bracelets and establish itself in more growing markets.
"In the short term, it is important they continue to produce the same growth rates as we have seen, and in the long term that they manage to develop more than the one product," Poll said.
Jyske Bank analyst Jens Thomsen said Pandora had turned a craft into an industry and added: "They have industry-like costs and craft-like sales prices and that gives healthy margins."
The IPO comprised 2.86 million new shares, raising about 560 million crowns for the company, and a sale of 44.55 million existing shares by Prometheus Invest ApS.
The sale, which brought in 5,000 new shareholders, gives a partial exit to Pandora's majority owner, private equity firm Axcel and the founding family.
EENSHOE UNDECIDED
There is also an over-allotment option, or greenshoe, to sell an additional 6.68 million existing shares, which can be exercised fully or partly up to Nov. 4, Pandora said.
Without the greenshoe, the offering is worth 9.96 billion crowns, and if the greenshoe is exercised fully the sale will be worth 11.36 billion crowns.
Depending on the greenshoe, the IPO ranks as the third to fifth-biggest stock listing in Europe this year. Polish insurer PZU's (PZU.WA) is the largest.
Goldman Sachs, JP Morgan, Morgan Stanley and Nordea were joint global co-ordinators and bookrunners for the IPO, while Carnegie and SEB were co-lead managers.
(Additional reporting by Mette Fraende and Ole Mikkelsen; Editing by Dan Lalor, Erica Billingham and David Hulmes) ($1 = 5.438 Danish crowns) ($1=.7261 Euro)
© Thomson Reuters 2023 All rights reserved.