PPR's retail recovery could speed up sale process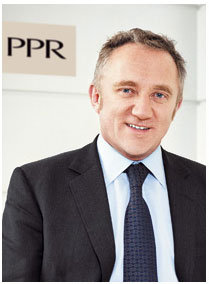 François-Henri Pinault
PARIS (Reuters) - A shopping revival should help French group PPR (PRTP.PA) more easily dispose of its retail units and fulfill its long-held ambition of refocusing on the luxury and outdoor sectors.

Some industry watchers see deals happening in the second half of this year even if PPR's Finance Director Jean-Francois Palus on Wednesday 28 April told analysts some potential buyers were facing "some financing issues," without giving details.
"I think that between the lines, what that means is that they do not want to sell those businesses at a low price," said one banker who has been following the matter.
PPR has been in informal talks to sell its Conforama furniture business, its Fnac electronics and books business and its Redcats mail order business. Analysts estimate the group could raise more than 4 billion euros from the three operations.
"Improving revenue and profit results in the retail divisions of PPR are probably going to make the company less prone to accept lower bids in divesting them," said Luca Solca, analyst at Bernstein.
"As a consequence, I would expect divestitures to happen later, in the second half of 2010."
PPR's retail businesses on Wednesday 28 April turned their back on more than a year of declining sales. In the first quarter, on a comparable basis, Fnac sales rose 1.6 percent, Conforama had its best quarter in two years with growth of 2.6 percent while sales at Redcats stabilized.
"It is clear that the recovery of PPR's retail unit should speed up the sale process," said Isabelle Ardon, a luxury fund manager at Societe Generale in Paris.
Speculation that improved trading could help the sale process has helped lift PPR's share price which gained 30 percent from the end of February until last week when it reached a one-year high of 110.7 euros.
PPR has been the best performing luxury stock this year and it is still up 24 percent since January even though it has lost about 10 percent since last week, hit by the general market and profit-taking by investors.
This month, analysts hurriedly lifted their target price for PPR by about 18 percent on average -- according to a Reuters poll of 10 analysts -- to catch up with the stock's ascent and reflect PPR's improved fundamentals both in luxury and retail.
"The divestment of the distribution activity remains a central theme, with the prospect of a better valuation for the activity and the sound probability of a divestment given a more active M&A market, which is a positive point," Oddo said.
Industry watchers bet Fnac and Conforama will be the first businesses to go as Redcats will probably need more mending before changing owners.
For Fnac, one potential suitor includes Best Buy (BBY.N), the world's biggest electricals retailer, which is keen to expand in Europe and opened its UK first outlet this month.
There could also be interest from the Mulliez family which controls the French supermarket chain Auchan and DSG International, the consumer electronics group.
Another option, if markets conditions allow, would be to float Fnac, which could fetch as much as 2.5 billion euros.
PPR already has stakes in listed companies including the sportswear group Puma (PUMG.DE), of which it owns 69.4 percent, and CFAO (CFAO.PA), which it floated last year and of which it still owns 43 percent.
Conforama, which could fetch 1.5-2 billion euros, could be sold to Swedish rival Ikea, which overtook it last year in terms of market share, or to a private equity buyer.
Conforama might also attract a real estate buyer as it owns many of the outlets its runs and has a real estate portfolio estimated by analysts at between 500-700 million euros.
Redcats, which includes the French mail order business La Redoute, could interest some private buyers such as the Otto Group, which controls the mail order business 3 Suisses International.
SHOPPPING LIST
A cash pile of more than 4 billion euros would give PPR the fire power to make purchases without taking on more debt.
It used the proceeds of CFAO's flotation last year to cut its debt, which was an issue for investors until then, and now it wants to avoid having to increase its gearing.
As of December 31, PPR's net debt stood at 4.36 billion euros.
PPR is keen to invest in the outdoor and lifestyle sectors as a growing number of people, particularly middle aged, are being drawn to outdoor activities. [nLDE62E1HU]
One attractive target for PPR could be the Norwegian outdoor clothing brand Helly Hansen, owned by Swedish private equity firm Altor since 2006. The 133-year-old company told Reuters last year it was closely tracked by potential trade buyers.
Another target could be the Swiss sports underwear brand Odlo, which since 2006 has been in the hands of private equity group Towerbook - which also owns Jimmy Choo - and could be ripe for a change in ownership.
Odlo, a brand favored by skiers and treckers, had sales of 159.6 million Swiss francs last year and employs 650 people.
On a larger scale, some analysts point to U.S. teen apparel retailer Abercrombie & Fitch (ANF.N) as another potential acquisition but at current prices it is worth $4.22 billion.
PPR is keen to expand in the outdoor sector because opportunities in luxury sector are few and far between.
Established brands such as Armani, Versace, Prada are family-controlled are not for sale. But one fashion brand that might hit its radar screen is Balmain, which is still small but growing fast and earning rave reviews from the fashion press.
(Additional reporting by Pascale Denis)
(Editing by David Cowell)
© Thomson Reuters 2022 All rights reserved.