PPR to arrange finance for $2.1 bln unit sale
Oct 21 (Reuters) - French luxury and retail group PPR (PRTP.PA) has hired Rothschild to advise it on a 1.5 billion euro ($2.1 billion) facility to help potential buyers of its Conforama retail unit, the Financial Times newspaper reported.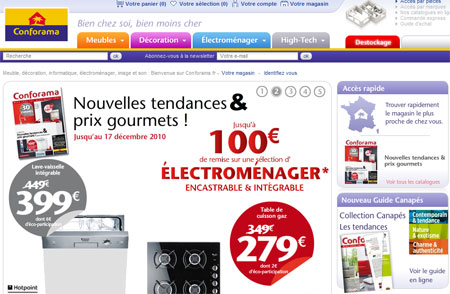 Conforama.fr
The auction of furniture chain Conforama was expected to take place in the next few months, the FT said on Thursday without citing sources.
The sale is part of PPR's strategy to move away from retail, which also includes book and music retailer Fnac and catalogue group Redcats, and focus on luxury as well as its new sports and lifestyle division.
PPR has approached investment banks to provide a guaranteed prearranged funding package that bidders could use to buy Conforama, the FT said, citing a private equity consortium of Merchant Equity Partners, Goldman Sachs and Colony Capital as the leading candidate.
South African furniture manufacturer Steinhoff International Holdings (SHFJ.J) has also shown interest, the FT reported.
PPR chief executive Francois-Henri Pinault has said previously the sale process of its retail units was being held back by problems faced by potential buyers in finding financing.
(Reporting by Caroline Jacobs; Editing by Dan Lalor) ($1 = 0.7181 euro)
© Thomson Reuters 2023 All rights reserved.