Prada confirms 360 million Euro loan
Prada has been under constant discussion in the press since February this year when the label formally denied any negotiations with Swiss group Richemont over a sale of a minority share of its capital.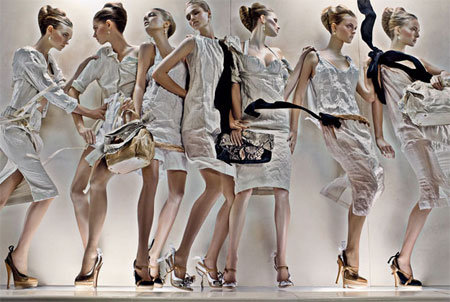 Prada spring/summer campaign 2010
As a reminder, creator's and founder's Miuccia Prada and her husband, partner and Managing Director, Patrizio Bertell have almost exclusive ownershi of the group.
History repeated itself on Monday as Chinese tycoon Li Qiang announced it had acquired 13% share in the Italian luxury group over the last two years. This would've meant it would become the largest shareholder. The firm quickly rectified the error however and reminded us that the family still owned 94.89% and the rest is under the control of Banca Intesa Sanpaolo.
Prada so announced its 360 million Euro loan agreement with bank consortium Intesa Sanpaolo group who runs Banca Intesa.
The loan should enable the company to clean up its debts and finance development.
The house completed its fiscal 2009 with 2.8% operating profit partly thanks to new store openings in 2010. Its core brands are Miu Miu and Church's. The latter posted a recurring profit of 290m Euros, compared to 282m in 2008.
These positive financial results and strong economic performance have enabled the group to self-finance the whole of its 120m Euro development plan. This is dedicated to the opening of 33 stores worldwide under the labels Prada, Miu Miu, Car Shoe and Church's.
Up till now, the group owns 280 stores over 78 countries and distributes products through its extensive network of multi-brand outlets and franchises.
Copyright © 2023 FashionNetwork.com All rights reserved.