Prada denies in talks to sell stake to Richemont
MILAN (Reuters) - Italian fashion house Prada is not in talks to sell a stake to Richemont (CFR.VX), the world's second-largest luxury goods group, a Prada spokesman said on Tuesday 5 January, denying a newspaper report of a possible tie-up.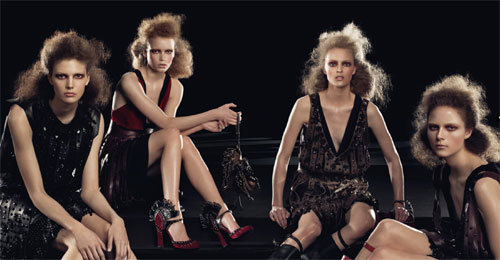 Prada 2009/2010
The New York Post reported on Tuesday 5 January that the fashion house, whose designer Miuccia Prada is seen as a trailblazer for fashion worldwide, was nearing a deal to sell about a third of the label to Switzerland's Richemont.
Citing sources, it said Richemont was expected to take a passive stake in a deal which would create a luxury powerhouse to rival France's LVMH (LVMH.PA). "The company (Prada) categorically denies the sale of a stake to Richemont," a Prada spokesman said. "There are no negotiations in existence."
Richemont was not immediately reachable for comment.
Prada has previously denied it was in talks over the sale of a minority stake.
In August, an Italian newspaper said its bankers had contacted Richemont about the company taking a stake in it.
Prada has a debt of more than 1 billion euros ($1.5 billion), media reports have said, divided between that owed by its industrial operations and that owed by its holding company.
In the summer, its holding company agreed with banks for an extension on debt repayments.
Prada, almost exclusively owned by Miuccia Prada and her partner, Chief Executive Patrizio Bertelli, has had its sights on a public offering in the past but attempts in the last few years have been pulled because of market conditions.
Richemont is the group behind Cartier jewelry and Montblanc pens. Its shares were down 0.1 percent to 35.52 Swiss francs at 1027 GMT.
"Richemont has made no secret it would like to build a profitable soft luxury business and taking a Prada stake may be of interest," Kepler Capital Markets analyst Jon Cox said.
"But to be honest its track record in the soft segment has been poor compared with the fantastic job it has done in hard luxury, namely Cartier and watches."
(Reporting by Marie-Louise Gumuchian; Additional reporting by Silke Koltrowitz in Zurich; Editing by David Holmes)
($1=.6920 Euro)
© Thomson Reuters 2023 All rights reserved.