Prada first Italian company to seek HK listing
Jan 27 - Prada kicked off a possible Hong Kong IPO on Thursday which could value the Italian fashion company at more than 6 billion euros ($8.2 billion) and allow it to cash in on high market ratings for luxury goods stocks.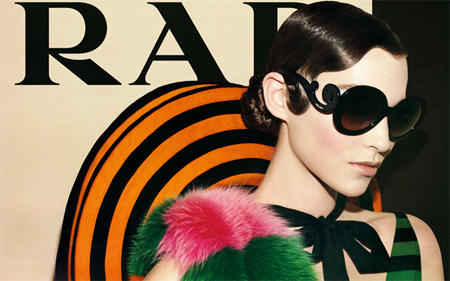 Prada Advertising Campaign Spring Summer 2011
If successful, the much-awaited deal would make Prada the biggest European fashion brand to float in more than a decade and the first Italian company to be listed in Hong Kong.
"Confident in the development of the group, we can now face the coming challenges with serenity and seize the best opportunities offered by the international capital markets," Chief Executive Patrizio Bertelli said in a statement.
Prada, known for its innovative fabrics, unconventional styles and dainty handbags, canceled plans to come to market at least three times in recent years due to poor market conditions It did not give a timeframe for the flotation.
The group could aim to raise at least 1.2 billion euros and seek a valuation of at least 12 times projected 2011 core earnings, in line with the luxury sector which is on 12.5 times.
It appears to have chosen Hong Kong over Milan because it believes it can obtain a higher valuation there than in Europe. But analysts warned the company could sacrifice investor interest in Europe and the United States as a result.
"They will lose investors and coverage in Europe and the U.S.," one Milan analyst said. "But this is less of an issue for them as the amount of money they will be able to raise."
Others also queried the move. "We do not like to see the quotation in Hong Kong as we believe an Italian company should be quoted in Italy," analyst Rene Weber at Vontobel said. "It is clear that a big client/investor base is in Hong Kong, but these investors also invest in luxury goods stocks in Europe. Therefore we clearly do not see the reason for doing this."
ASIAN EXPANSION
The Italian brand competes with the likes of Dior (part of LVMH), Hermes, Tod's, Gucci and Balenciaga (both part of PPR), as well as Lancel and Chloe owned by Swiss group Richemont.
Prada is under pressure from its bankers to raise funds to pay down debt of around 1 billion euros. But the company will stress that funds raised in the flotation will also be used to fund expansion in Asia, where it expects sales to overtake those in Europe over the next three years.
If it goes ahead with the IPO, Prada would be following in the footsteps of L'Occitane, the French skincare products maker which floated in Hong Kong last year.
The luxury goods sector has staged a strong rally in 2010, helped by tourist shoppers in Europe and in China. Industry leader LVMH was the best performing stock in the Paris CAC-40 index in 2010 with a 57 percent rise.
The 98-year-old family-run company, whose trend-setting designer Miuccia Prada has gone from being a 1970s leftist to one of Europe's most prominent businesswomen, could encourage other luxury goods companies to go public.
The 60-billion-euro Italian sector is under-represented on the stock market. Fashion houses such as Ferragamo and Moncler have said they might float depending on market conditions.
Hong Kong bourse guidelines would require management changes, including two executive administrators based in Hong Kong and three independent administrators.
Prada is 95 percent owned by the families of Chief Executive Patrizio Bertelli and his wife Miuccia. Italian bank Intesa Sanpaolo owns the rest.
UniCredit, Intesa Sanpaolo -- both sitting on the company's board -- along with Goldman Sachs and brokerage CLSA, a Hong Kong division of Credit Agricole Securities, have been appointed as joint book runners and joint global coordinators, Prada said.
(Writing by Astrid Wendlandt and Antonella Ciancio; Editing by Will Waterman and David Holmes)

© Thomson Reuters 2023 All rights reserved.